This has been another year where relaxation and calm has come at a premium—and this holiday season looks to be a little extra stressful with uncertainties all around us. Hopefully, we can still step back and enjoy this holiday season, especially for those of us looking to go a little minimalist this year.
Scandinavian design, with its focus on minimalism is a great way to embrace the ideas of Hygge this holiday season.
Scandinavian design has mastered the art of being simple without being austere. For holiday décor, you'll find neutral colors with small touches of holiday cheer in place of traditional Christmas clutter.
Decorating your Scandinavian-themed living room is a matter of selecting the touches you want to emphasize.
Choose a Neutral Holiday Color Palette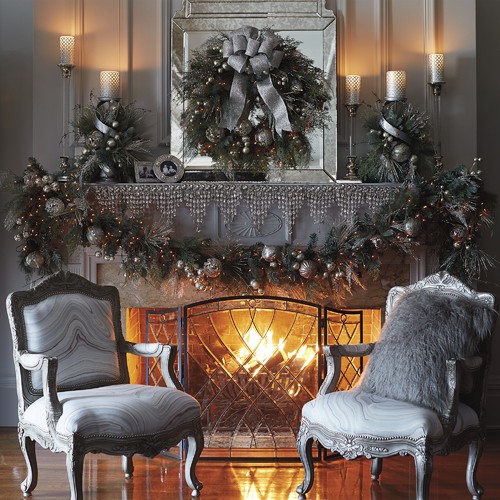 Photo by FRONTGATE – Look for traditional living room pictures
Your staple colors will be white, silver, and some gold. White lights, simple ornaments, and neutral throw pillows will create a tasteful holiday feel. From there, you can add occasional reds, greens, and even blues that evoke the azure tones of snowy landscapes.
Stressless furniture is the perfect backdrop for holiday decoration. With simple lines and neutral colors, it provides the framework of simplicity that you can embellish as needed.
Mix in Splashes of Color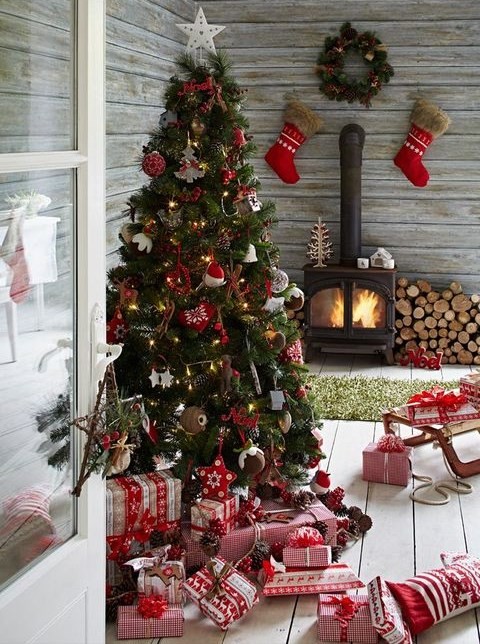 Photo by ComfyDwelling.com – Discover home design design ideas
Mixed in with neutrals, splashes of bright colors add interest without overwhelming you with holiday fervor.
A red, wool blanket, green wreaths, brightly colored bulbs for the tree, and candles add holiday cheer while remaining relaxed. Complete the feel with a few throw pillows that have simple, natural designs (snowflakes, trees, rain deer, and the like).
Adding candles to glass surfaces that reflect the light is a beautiful way to enhance the aesthetic of one simple embellishment. Red candles on one of our Jazz glass tables will glow warmly on dark evenings.
Make Good Use of Light
Photo by Louise de Miranda – Houzz
Light plays an important role in Scandinavian design. First and foremost, natural light is a striking element. You don't have to remodel your home if you have small windows. Using lightweight curtains instead of heavy drapes will give the light, airy feel of Nordic design.
Candles and accent lamps are another way to invite good lighting in your home. For Christmas especially, the glow of flickering candles and strings of light creates festive cheer without requiring tons of decorating.
Use Natural Themes for Decoration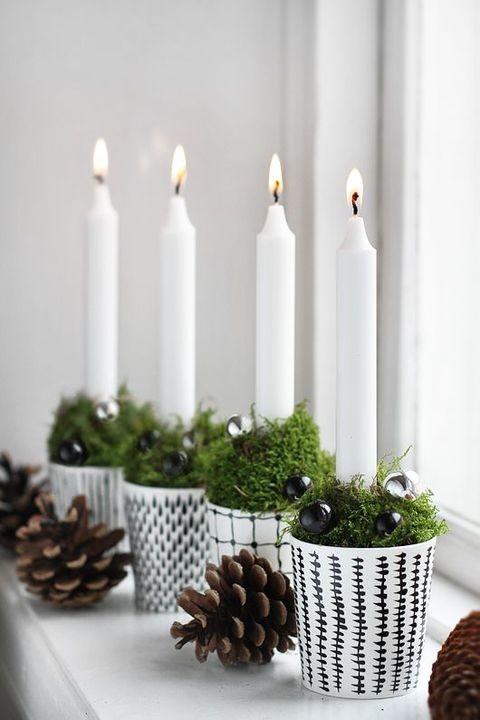 Photo by ComfyDwelling.com – Houzz
Scandinavian design celebrates nature. Sprinkle your home with greenery and pine cones to create the feel (and smell) of winter. This may be in the form of a few simple, natural wreaths or a centerpiece on the mantel or coffee table.
Natural materials are popular: wool blankets, wicker baskets, wooden figurines. A red wool blanket folded in a wicker basket next to your Stressless Manhattan 3-Seater adds the perfect holiday touch for a cozy evening.
Fur has also been popular in Scandinavian design although faux fur is replacing authentic pieces for ethical and environmental reasons.
The Underlying Theme: Simple and Stylish
Photo by Louise de Miranda
As you search out inspiration for Scandinavian decorating, you'll see a theme emerge – simplicity. Whether you're going after traditional or modern Scandinavian designs, the simple lines, neutral colors, and stylish appeal remain the same. Keep holiday decorating simple by adding a few, well-chosen accessories to celebrate the season.
You'll find the beauty and simplicity you're looking for in Stressless furniture. Instead of busy patterns, you'll discover the clean lines and solid neutrals you've come to love in Scandinavian home décor.
If you're interested in a mid-century design and beautiful minimalistic, Scandinavian styled furniture for your living room, come visit our showroom. Our ergonomically designed furniture will create a welcoming center in your home.