The man cave has long been heralded as a sanctuary for men and a necessity for the hard-working male. It's where they go to relax, unwind, and escape the stress of their daily routine. While the concept isn't new, it's time to expand on this idea for the ladies.
Women master many roles – wife, mother, entertainer, artist, employee, business owner – and she too deserves a place of her own to unwind and relax after a long day. A place where comfort meets design and the to-do list is non-existent.
The lady lair is the new man cave. A place in the home for women to enjoy what they love and relax in pure comfort. So, find a space in your home, an unused guest room or a sectioned off corner of a living space, and get to work creating your own lady lair sanctuary in your home.
1. Surround Yourself with What Inspires You
As you develop the concept for your lady lair, make space for the things you love. A lady lair can be based on your passions – what inspires you and invokes relaxation.
For some, their lady lair may become a private yoga studio with the right level of simplicity or comforts to clear your head. For others, it may become a reading or writing room with comfy chairs, a table or desk, and soft lighting in a peaceful setting. For those who enjoy crafts or sewing, a lady lair can become a space for their hobbies with supplies organized and easily accessible.
2. Good Lighting Is Important
Contrary to a dark man cave, take full advantage of the natural light available in your lady lair. Keep the curtains or shades open to allow light to stream in. During morning or evening hours, or when natural light is limited, use decorative table or floor lamps to give the space the light it needs.
3. Focus on Atmosphere
The little touches are essential to the purpose of the lady lair. Choose a few of your favorite colors then look for accessories in a similar hue which inspire a sense of calm. Include art elements that reflect your personality and personal items that offer positive reinforcement.
Fresh flowers, essential oil diffusers, pictures, lamps, throws, pillows, and soft music are just a few ways you can transform an ordinary space into a spa-like retreat.
4. Include Lots of Pillows and Comfy Seating
A cozy corner chair is a necessity to relax and curl up with a book, Kindle, or enjoy your morning coffee in a peaceful setting. If you have room, include a plush sofa for additional seating to invite people over to get comfy. Add large patterned or colored pillows for warmth and coziness. When you need extra space, stash pillows away in an ottoman with easy storage.
5. Keep the Space Organized and Clutter-Free
Clutter and disorganization are the enemies of relaxation. Make sure this space is well-organized and clutter-free. As you consider the design, get creative with storage solutions such as bookshelves, wicker baskets, and fabric covered boxes.
At European Leather Gallery, we help women choose the right furniture to inspire true relaxation. Check out our selection of ergonomic recliners, sofas, and loveseats online today.
In our efforts to offer our customers the highest quality furniture and styles from around the world, we're excited to bring you Fjords Hjellegjerde Norwegian furniture! Learn more about why Fjords Hjellegjerde furniture is special, including their unique focus on style and innovation.
About Fjords Hjellegjerde Furniture
Since 1941, Fjords furniture has been inspired by Norwegian nature. Over 70 years ago, brothers Otto and Mindor Hjellegjerde launched the furniture company in the fjord village of Sykkylven in Norway. Their third brother, Ingvar, joined the business in 1946.
Together, the brothers harnessed their fierce dedication and skills to build one of the largest furniture companies in Norway. Now, their small family business has reached four continents.
Fjords Hjellegjerde – Inspired by Nature
What makes Fjords furniture different than other manufacturers is the source of their inspiration. Envision nearby landscapes where the endless motion of the ocean meets the strength of the mountains. Or consider the contrast between darkness and light in Norway constantly changing – one cannot exist without the other.
While surrounded by robust nature, they make their furniture solid. As nature daily expresses generosity, their furniture is designed for generous comfort.
Tradition Meets Innovation
While Fjords is inspired by nature, their focus is on finding the balance between tradition and innovation. The place where the knowledge of yesterday meets today's modern technology. Fjords puts great emphasis on high-quality craftsmanship and Norwegian design with the same dedication and skill as when the company first began.
Built-in Ergonomic Comforts Designed to Improve Your Health & General Well-Being
Fjords believes in constantly innovating and improving their furniture for continuous comfort and health. Ergonomic furniture helps your body relax and enables your blood to circulate freely.
Fjords ergonomic chairs feature:
Active Release System™ provides better support for your neck. It can be adjusted with a single movement to optimize your sitting experience.
High-quality steel is used to construct the back and seat.
Springs in the back and seat enhance comfort.
Cold cure molded foam is shaped in casts with the exact shape of the product. This method retains the suppleness of a chair for longer use than other foam methods.
Dacron fibers are inserted between the upholstery or leather and foam. This provides extra softness for the back and seat for improved comfort.
Built-in gliding steel mountings offer individuals the best resting position as your body weight glides you into the desired position.
Discover the Beauty and Comfort of Fjords Hjellegjerde Furniture at European Leather Gallery
Come relax on a Fjords gliding chair and see for yourself the dedication, innovation, and design put into this Norwegian nature-inspired furniture. At European Leather Gallery, we offer an array of high-quality leather and upholstered furniture. Search your favorite styles online or come see us in our showroom today.
At European Leather Gallery, our goal is to offer our customers the highest-quality furniture made in the U.S. and around the world. We're thrilled to offer Elite Leather Company furniture handmade locally by craftsmen and women in California.
About Elite Leather Company Furniture – Handcrafted in the U.S.A
Elite Leather Company was founded in 1959 and is a family-owned furniture company based in Chino, California. Each sofa, sectional, sleeper, and chair are made by hand using local American craftsmen. Elite Leather is passionate about custom furniture and takes extraordinary steps to make sure you'll love their product as much as they do.
Elite Leather offers over 80 furniture styles to choose from and custom builds each piece to make it exactly how you want it. With 25 distinctive patterns of leather in over 200 colors and 96 colors of Ultrasuede®, your task is simply to choose the style, color, and seating, and Elite Leather Company will handle the rest. New custom furniture is shipped fast and covered with a comprehensive warranty.
Find Your Style
Whether you enjoy traditional, transitional, or contemporary designs, Elite Leather offers the perfect piece to enhance your space. Elite Leather furniture isn't only built for style, they're built to last.
Elite Leather Craftsmen Care About the Details
Each piece of Elite Leather furniture is handcrafted and not mass produced. Craftsmen spend considerable time examining each tanned hide and selecting the best parts of the leather to be showcased.
Unlike many furniture manufacturers, Elite Leather builds their own frames. Time and effort are spent gluing, stapling and using corner blocks in the frame to strengthen the joints. Each of these steps is given special attention to detail.
Elite Leather adheres to specific guidelines for sit and comfort tests based on their belief that furniture should be stylish and comfortable. Because each product is handmade, each piece may have their own unique variations.
Quality Furniture – Guaranteed
Because Elite Leather excels at offering high-quality furniture, they extend the most comprehensive warranty in the leather furniture industry. Each piece comes with a limited lifetime warranty on the construction and a 5-year warranty on the leather and seating. The leather is guaranteed to not crack, peel, tear, become hard, or transfer color with normal use. The frame and springs are guaranteed against defects in materials or craftsmanship for the life of the furniture with normal use.
Check out Elite Leather Company at European Leather Gallery!
We're proud to add Elite Leather Company to our line of high-quality furniture offered at European Leather Gallery. Check out the sofa options online or come see us at our showroom to learn more about customizing handcrafted Elite Leather furniture today.
Do you ever browse design magazines or Pinterest and wonder how to make your living room as cozy and inviting as the images? It may not be as difficult as you think. With a little planning, you can achieve the cozy, inviting living space you've always wanted.
Choose Plush, Upholstered Furniture
Furniture is one of the main ingredients to set the tone in your living room. Plush, upholstered furniture that's comfortable and inviting is sure to make your home cozy for all to enjoy.
Decorate in Layers
Layers invite an element of coziness by mixing and matching pieces. Layer throws and pillows to add warmth to your living room. Rugs can be layered under a coffee table with a few pillows placed neatly underneath for guests to relax wherever they please.
Don't Underestimate the Power of Lighting
We're talking all forms of lighting. Natural light, overhead light, and the ambiance of lamps.
While overhead lighting sometimes gets a bad reputation, it may be because it's the wrong fixture. Replace stale or outdated overhead lighting with a stunning fixture that spreads light at all angles. Add soft or LED lighting and ambiance with decorative lamps on side tables or floor lamps near reading chairs.
Add a Touch of Leather
Genuine leather brings a touch of earthy, natural tones which can warm up an entire space. Accent with an ergonomic leather recliner or go big with a leather sofa or sectional.
Tap into Textures
Too much of one thing is never a good thing. The key to cozy is playing with textures. Expand your horizons with soft throw blankets, woven textures, baskets, metals, fabrics, and glass. The variety can bring warmth to a cool place.
Mix Rustic and Glam
Natural wood furniture and antler accents won't turn your space into a cabin when it's accented by neutral gray tones, glass, and other glamorous pieces. Create the right mix of rustic and glam for an inviting place for friends and family to gather.
Knits and Cozy Blankets
Is there anything cozier than knits? As you layer textures, include a knit blanket over a chair or soft, furry throws at arm's reach for those cool, brisk mornings. Curl up with a cup of coffee and a book and you won't want to leave your cozy corner anytime soon.
Add Natural Elements
Keep your living room vibrant with fresh, green plants. Do you find it difficult to keep plants alive? Decorate with succulents for natural greenery and less watering.
Show Off the Family
Nothing makes a home more appealing than the lives lived by the people inside. Showcase photos of fun family times and special memories with friends.
Keep It Functional
Cozy can also be functional. Make sure guests have a convenient place to set their drinks. Hide magazines, toys, or extra blankets in functional ottomans. If space feels tight, reduce the feeling of clutter with open-aired chairs and coffee tables.
Need more cozy furniture ideas? European Leather Gallery has exactly what you need for sofas, chairs, ottomans, coffee tables, and more.
Working at home has its benefits, but also its challenges. A comfortable home office which allows you to be productive in your work is key. Consider these important tips to create an organized and productive home office setting.
Get the Right Equipment
Speed and efficiency are critical in home office equipment. Only invest in equipment you'll use daily. If you print a document once a month, save yourself the money and space by running down to the nearest copying/printing shop.
Don't constrain yourself to the limits of only working at your desk. Keep your options open to work from a laptop at a table, desk, or chair. Give yourself options to work at both sitting and standing heights.
Embrace Natural Light – Supplement with Lamps
In a home office, you're not limited to the dim lighting of a cubicle, so avoid hiding your desk in a dark corner.
Take full advantage of your window and natural light by moving your desk near the window and parallel to the panes. This gives you energizing natural light and a view to enjoy. Supplement lighting with lamps where needed.
Be Creative with Storage/Organization
Clutter and disorganization can induce stress and make it difficult to focus. Follow the rule "a place for everything and everything in its place."
Limit your desktop to items you use daily and organize your laptop, papers, and supplies to promote productivity and fewer distractions. Visit Ikea, Target, or The Container Store for office storage organizers and storage ideas.
Keep it Private
Pets, noise and other distractions can keep you from being productive in a home office setting. Make sure you home office has doors to close and reduce noise.
If you deal with personal and private information, keep your workplace secure. The office door should have a lock with additional locks on important file cabinets with documents. Keep the door secured when you're not working to keep guests, children, or pets from gaining access to your office.
Create a Comfy Space
Not all your time will be spent behind a desk. Use any additional space to create a reading corner with a comfy chair, lamp, and side table. Make your office space inviting to encourage productivity, critical thinking, and comfort.
Add Fresh Greenery
Keep your home office from becoming stale with fresh, green plants. If you struggle to keep plants alive, choose succulent plants which need less water and are an inspiring green addition to any office.
Ergonomics Are Important
Taking care of your body and your posture is important at work and at home. Choose ergonomic office furniture to make sure your back, neck, and spine are fully supported while you work.
Ekornes Stressless office chairs offer customized support to reduce lower-back and neck pain. Modern designs and innovative technologies make Stressless chairs the best investment you can make to improve your health while you work.
Use these tips to design and organize your office for maximum productivity. Start by visiting European Leather Gallery for a wide selection of ergonomic office chairs, recliners, and sofas to improve your back and neck health.
Scandinavian design has mastered the art of being simple without being austere. For holiday décor, you'll find neutral colors with small touches of holiday cheer in place of traditional Christmas clutter.
Decorating your Scandinavian-themed living room is a matter of selecting the touches you want to emphasize.
Choose a Neutral Holiday Color Palette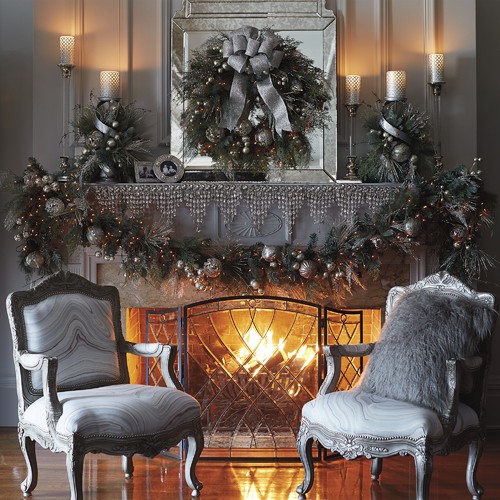 Your staple colors will be white, silver, and some gold. White lights, simple ornaments, and neutral throw pillows will create a tasteful holiday feel. From there, you can add occasional reds, greens, and even blues that evoke the azure tones of snowy landscapes.
Stressless furniture is the perfect backdrop for holiday decoration. With simple lines and neutral colors, it provides the framework of simplicity that you can embellish as needed.
Mix in Splashes of Color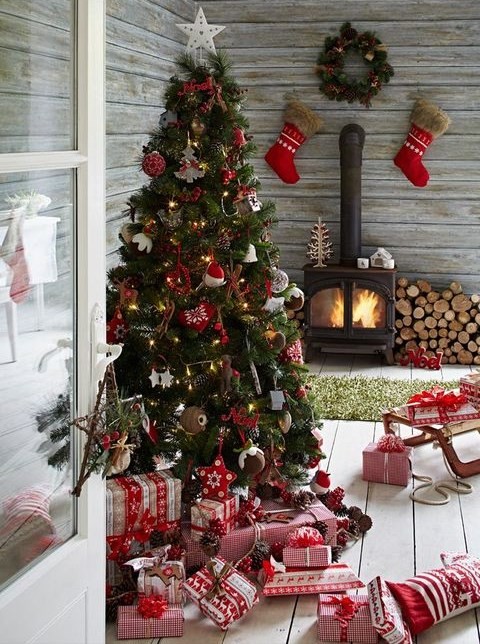 Mixed in with neutrals, splashes of bright colors add interest without overwhelming you with holiday fervor.
A red, wool blanket, green wreaths, brightly colored bulbs for the tree, and candles add holiday cheer while remaining relaxed. Complete the feel with a few throw pillows that have simple, natural designs (snowflakes, trees, rain deer, and the like).
Adding candles to glass surfaces that reflect the light is a beautiful way to enhance the aesthetic of one simple embellishment. Red candles on one of our Jazz glass tables will glow warmly on dark evenings.
Make Good Use of Light
Light plays an important role in Scandinavian design. First and foremost, natural light is a striking element. You don't have to remodel your home if you have small windows. Using lightweight curtains instead of heavy drapes will give the light, airy feel of Nordic design.
Candles and accent lamps are another way to invite good lighting in your home. For Christmas especially, the glow of flickering candles and strings of light creates festive cheer without requiring tons of decorating.
Use Natural Themes for Decoration
Scandinavian design celebrates nature. Sprinkle your home with greenery and pine cones to create the feel (and smell) of winter. This may be in the form of a few simple, natural wreaths or a centerpiece on the mantel or coffee table.
Natural materials are popular: wool blankets, wicker baskets, wooden figurines. A red wool blanket folded in a wicker basket next to your Stressless Manhattan 3-Seater adds the perfect holiday touch for a cozy evening.
Fur has also been popular in Scandinavian design although faux fur is replacing authentic pieces for ethical and environmental reasons.
The Underlying Theme: Simple and Stylish
As you search out inspiration for Scandinavian decorating, you'll see a theme emerge – simplicity. Whether you're going after traditional or modern Scandinavian designs, the simple lines, neutral colors, and stylish appeal remain the same. Keep holiday decorating simple by adding a few, well-chosen accessories to celebrate the season.
You'll find the beauty and simplicity you're looking for in Stressless furniture. Instead of busy patterns, you'll discover the clean lines and solid neutrals you've come to love in Scandinavian home décor.
If you're interested in a mid-century design and beautiful minimalistic, Scandinavian styled furniture for your living room, come visit our showroom. Our ergonomically designed furniture will create a welcoming center in your home.
When I'm looking for inspiration, one of the first things I do is go straight to the internet. Whether I'm looking for DIY projects, interior design ideas, or just looking to understand current trends there are tons of great websites created by professionals and amateurs that I look to.
While Pinterest is a good resource to see what other people are 'pinning' I'm partial to blogs and designer websites.
You might be wondering "why should I care about what designers or bloggers think?"—well, that's a good question, and the answer is simply: these site owners and bloggers are some of the most passionate about design, decoration, renovation, and virtually any other aspect of home decor you can think of. Who better to look to for inspiration than professional designers and highly passionate bloggers?
Without further ado—here's our favorite interior design and home decor blogs. Get ready to bookmark these great blogs.
Scandinavian Design Blogs
We're starting off here, well, because first and foremost we absolutely love Scandinavian design. Ekornes Stressless is an iconic Norwegian brand and that's where my heart and mind go when I initially think of design.
A very Scandinavia-centric site, it is a great one-stop destination for Scandinavian lifestyle (not just design) in English. If you're a "Scandiphile" (their word) this is where you can get a feel for Scandinavia wherever you are.
One of my favorites from the site: The White Rooms — this is a photographic tour of apartments and office spaces.
Also look for their "Scandi-Six" pieces—six item blogs on some aspect of Scandinavia.
Follow Scandinavia Standard on:
Facebook Twitter Instagram Pinterest
"Dos Family is about good looking sofas, fleamarket findings, TV, how to build a diner with toys, country living, everyday life, food, felt pen-tattoos and home tours. It's all about the strange and beautiful thing called inspiration, really." The Dos Family site has been around since 2009 and is run by Jenny Brandt, a Swedish interior design photographer. If you're not sure where to begin on the site, check out their New Reader Intro page — you'll be able to find some of the most popular posts there.
One of my favorites from the site: Irma's Playhouse
Follow Dos Family on:
This is one of Sweden's oldest design sites (it might actually be the oldest)—it was started in 2005 and focuses on the minimalism and functional styling of Scandinavian design.
One of my favorites from the site: Dream Summer House — I love the large wall of windows in this house and the simple concrete and wood materials.
Follow EMS Designblogg on:
Stylizimo is a design blog by Nina Holst, a Norwegian blogger. Her photos are beautiful and that's what drew me to her site. There is a lot here, especially for the DIYers
One of my favorites from the site: Workspace Inspirations — I love the design ideas for office spaces here. This might be my favorite office set (but it definitely needs one of our amazing Ekornes Stressless home office chairs).
Follow Stylizimo on:
Bungalow5 is a Danish blog for people who are passionate about design and anyone seeking inspiration and unique ways to decorate a modern, comfortable and stylish home. The site is owned by Allan Torp, a fashion industry and PR professional. Instead of sticking with the tried and true "project based and DIY blogs" Allan wanted a more design-inspired site that put the spotlight on simple and fresh Scandinavian inspired design.
One of my favorites from the site: This is My Favourite Spot — the first time I came across this post I expected to see pictures of one area of a house. Click through to be pleasantly surprised by the "favourite spot" in the post. It gave me the idea to do something similar in my own home!
Follow Bungalow5 on:
Facebook Twitter Instagram Pinterest
This is a London blogger's Swedish design site. I love how simplistic the site is to match it's focus on Norwegian/mid-century minimalist design.
One of my favorites from the site: The Lovely, Light-filled Workspace of a Blogger and Nutritionist
Follow My Scandinavian Home on:
Facebook Twitter Instagram Pinterest
Interior Design Blogs
In no particular order—here are some of my favorite general interior design/home decor blogs
There are some beautiful and amazing interior design shots on this site. You can easily get lost for hours here if you're in the 'research' phase of a project or renovation. I really enjoy the before and after posts she does.
One of my favorites from the site: Before + After: Client Z to the E to the N — it goes from a dark, uninviting (in my opinion) space to a bright, open kitchen and I can honestly say, I would love to prep a big family meal in there.
Follow Amber Interior Design on:
This is a great blog for the DIY interior designers, this is a quintessential lifestyles blog—with a little of everything, including recipes and travel inspiration. Personally that's not my cup of tea, I much prefer the interiors section with all of its organic materials and modern looks.
One of my favorites from the site: Office Makeover Reveal
Follow Paper & Stitch on:
Facebook Twitter Instagram Pinterest
Brittany is an accountant by trade and decorator by passion, and it comes through in her posts. There's a logical order to her inspirations. This is much more of a DIY-type site, and less 'professional' than others, but what she posts is no less beautiful.
One of my favorites from the site: Ikea Hack: Mid Century Bar Cabinet — this would look great paired in an open concept living area with one of our Stressless sofas and recliners for a true mid-century modern look.
Follow Brittany Makes on:
Facebook Twitter Instagram Pinterest
It would be kind of silly to leave Design*Sponge off any list of great design blogs. I like that Grace, the site owner, doesn't shy away from color. Looking at her interiors sections gives a reader ideas to combine color and simplicity into lovely living spaces.
One of my favorites from the site: Beachy "Treehouse" in Melbourne, Florida
Follow Design*Sponge on:
Facebook Twitter Instagram Pinterest
Ok, so we've been featured on this site before, but that's not why I love it. Deb posts beautiful shots of her DIY updates to her home. I like the simplicity of many of her designs and the way she tries to stretch a little into a lot!
One of my favorites from the site: Design Boards — this is a bit of unique spin on ideas. I like how she sets up design boards for different rooms and it's great if you're not sure what style you're looking for.
Follow Seeking Lavender Lane on:
Facebook Twitter Instagram Pinterest
This blog is by a freelance web designer and the themes around the site are about designing small spaces effectively.
One of my favorites from the site: Gifts Ideas for New Homeowners
Follow Decorology on:
This is not your typical design blog. The site is sort of a cross between storytelling and design history with home and lifestyle design added in.
One of my favorites from the site: Stamped Salt Dough Ornaments
Follow Even Cleveland on:
Jenny is a Phoenix area blogger and designer—her stuff has been featured in some really big publications like Better Homes and Gardens and HGTV. She's been sharing her insights and favorite projects on the blog since 2007.
One of my favorites from the site: Bavarian Forest Walls — I'm not usually a fan of dark colors in rooms, but for some reason this just works. I especially love the idea of "nightstands" (which are really wall mounted shelves).
Follow Little Green Notebook on:
Facebook Twitter Instagram Pinterest
There's a little of everything here—this lifestyle blog is run by two sisters and they share home decor, food recipes, and crafty projects. Like I said, you can find a bit of everything on this blog.
One of my favorites from the site: Ikea Credenza Restyle
Follow A Beautiful Mess on:
Facebook Twitter Instagram Pinterest
Decor8 is owned by Holly Baker, a journalist and interior design stylist. On her blog she likes to "share decorating ideas, trends and beautiful objects and places – those extra special finds, often made by hand, things that tell a story."
One of my favorites from the site: Gotland Sweden Travel Tips — I dream of going to Sweden but haven't been, scroll down to the comments section to read some great travel ideas.
Follow Decor8 on:
Facebook Twitter Instagram Pinterest
In Jessica's own words: "I am particularly obsessed with flowers, crops, produce, and the countryside which surround me here in Wisconsin. I also find endless inspiration at our local farmers' markets and farm stands." This blog is all about color—she creates color palettes inspired by nature and produce. Just a cool, very different type of design blog!
One of my favorites from the site: Heavenly Hues
Follow Design Seeds on:
Facebook Twitter Instagram Pinterest
A leading interior design blogger from San Francisco (but now living in LA), this site is about 'Bohemian style' and showcasing designers, trends, and products. Victoria Smith (the owner) also focuses on thrifty/affordable finds for creating your style. Just a great, unique style blog.
One of my favorites from the site: Dining Rooms that Double as Workspace
Follow SF Girl By the Bay on:
Old Brand New is pretty much summed up in it's name: "it's all about mixing the old and the new. Turning something old and making it brand new! For interiors, I am an eclectic bohemian at heart where I blend different periods of design."
One of my favorites from the site: DIY Mid Century Desk Wall Unit — I really love multi use projects, and this 'bookshelf' and work desk setup is a great example of that.
Follow Old Brand New on:
Facebook Twitter Instagram Pinterest
Apartment 34 offers inspiring ways to add sophisticated style to your life. On the blog, they share modern décor, classic style, must-make food, wanderlust-worthy travel – all the good stuff that makes day-to-day life a little bit better.
One of my favorites from the site: Coconut Chocolate Pistachio Tart
Follow Apt 34 on:
Facebook Twitter Instagram Pinterest
L.A. based designer and blogger Justina Blakeney loves "boho aesthetic." Her blog highlights her passion for color, pattern and plants, and TheJungalow.com, has quickly become a go-to source for bohemian design inspiration.
One of my favorites from the site: Tour the Jungalow — I really love home tours, to get an inside look at other people just gives you a little bit better understanding of the person behind the blog/home. I love the amount of color throughout Justina's jungalow!
Follow The Jungalow on:
Facebook Twitter Instagram Pinterest
Igor Josifovic started Happy Interior Blog in 2011 with the intention of bringing more happiness to our homes and lives. His blog focuses on interior design and decoration ideas for happy homes, showcases the beauty of the world and inspirations he has brought home through his travels. Something a little unique to HIB is that Igor loves to highlight the beauty and beneficial power of houseplants.
One of my favorites from the site: Scandinavian Home in Germany
Follow Happy Interior Blog on:
Facebook Twitter Instagram Pinterest
The Inspired Room is a decorating blog designed to help you love the home you have. For two years in a row (2014 and 2015) it was voted the Reader's Favorite Decorating Blogger at Better Homes & Gardens magazine. The site is aimed at budget conscious homeowners that appreciate good design and a well-kept home.
One of my favorites from the site: 10 Tips for Styling Large Living Rooms
Follow The Inspired Room on:
Facebook Twitter Instagram Pinterest
Kelly Elko uses her blog to mix old and new. Her blog displays collections and highlights decorating tips. She also uses flea markets finds, estate sales, and unique items to create here 'eclectic' style.
One of my favorites from the site: Summer Curb Appeal Houses
Follow Eclectically Vintage on:
Facebook Twitter Instagram Pinterest
Designer and blogger, Kristin Jackson created Hunted Interior to inspire readers to "hunt for their own style" and teach them how to accomplish it on any budget. She has had years of experience as an International Hotel Designer and knows the importance of creating a luxurious space & making every dollar count.
One of my favorites from the site: My Favorite Design Books — I love book roundups and if you're interested in interior design and decorating, this is a great booklist.
Follow Hunted Interior on:
Facebook Twitter Instagram Pinterest
Have you found this list helpful? Spread the love and hit the Facebook or Twitter share button. Do you know of an interior design or decorating blog you think should be on this list? Add a comment and let us know! We're always interested in reading and seeing more beautiful and inspirational designs!
What is it about Scandinavian furniture that makes it so iconic? Besides standing out with unique designs, are there other elements that make Scandinavian furniture different?
Scandinavian furniture designers bring with them a rich heritage of modern, minimalist thought and design with a focus on centuries-old values and quality craftsmanship. This makes Scandinavian furniture functional, practical, and oh-so-elegant in your home.
Learn more Scandinavian furniture and why these unique furniture designs are truly iconic.
A Modern Flair for Design
Scandinavian furniture designers believe natural beauty should be a part of our everyday lives. They've taken a fresh spin on creating eye-catching furniture designs with a modern flair for everyday home accessories.
The unique angles and soft cushions are designed for beauty and personal comfort as each piece of furniture is both functional and stunning in your home. The modern designs of most Scandinavian furniture pieces make them truly iconic.
They Implement Elements of Nature
Scandinavian furniture designs are rich with elements of nature. Many pieces combine elements of wood, metal, and genuine leather, tying in their love for nature and the outdoors.
These natural elements and gentle organic contours are just a few of the features that make Scandinavian furniture designs easy to spot and iconic in the furniture world.  
Innovation Is at the Heart of Scandinavian Furniture Design
As minimalists with a modern flair, Scandinavian designers create furniture that enhances your everyday life. They're innovators in the shape and design of furniture while focusing on how the furniture responds to the human form.
A sofa or a chair is never just a piece of furniture. Each is designed with purpose and meaning with innovation at the heart of everything they do. When you choose Scandinavian furniture, you receive advanced technology and quality designs you can't find anywhere else.
Focus on Quality Craftsmanship
Scandinavian furniture designers adhere to centuries-old beliefs that furniture should be well-built with quality materials. When you choose the highest quality leather, wood, and materials available, your furniture will last longer and offer more long-term benefits.
This value holds true today for Scandinavian designers and furniture companies. They forgo using cheap materials and instead choose durable, high-quality materials and quality craftsmanship for all of their furniture collections.
The Perfect Blend of Ergonomic Design and Elegance
Can technology and elegance unite in furniture design? Yes, and Scandinavian furniture does it well.
Scandinavian designers believe beauty should enhance even the humblest accessories in your everyday life. They unite advanced ergonomic technologies with elegant, modern designs to create the perfect balance of elegance and function in furniture you can use every day.
You can't go wrong when you choose beautiful Scandinavian furniture for your home. Modern and natural influences combined with their values of technology and quality craftsmanship make this furniture one-of-a-kind. It pairs stunningly in your home and is an investment in quality that will last for years to come.
Interested in quality Scandinavian designed furniture for your home? Explore your Ekornes Stressless options here.
image credits: Ekornes US—Look Book
Home theaters offer the convenience of inviting your family and friends over to enjoy great movies in the comfort of your home.
Whether you're building a new home or remodeling your current home to include a home theater, consider these important features when designing a personalized theater experience.
Flat Screen TVs and Projectors
What is the most important element in a home theater? The screen! Most home theaters use an overhead projector or a large flat screen TV.
Formerly, projectors were the method of choice for all home theaters. Today, flat panel TVs come in larger sizes while maintaining bright, dazzling images.
LED, LCD, or plasma TVs offer quality picture with sharp resolution, vivid colors, and brightness for all lighting conditions. Screen sizes for these TVs may be limited and larger screens can be expensive.
Projection TVs have a large, variable-size screen with flexible positioning. Mounting and installation can be expensive for ceilings, walls, or on a pedestal.
Projectors still offer the largest screen size for large home theaters, though flat panel TVs are a great choice for smaller spaces.
Comfortable Theater Seating
Perhaps the second most important feature for home theaters are the seats and furnishings. Seats should be comfortable and the viewing angle just right.
The best home theater seating provides each individual their own seat with personalized support. Options like the Ekornes Stressless Arion home theater seating allow you to mix and match individual seats, loveseats, and sofas with connecting pieces to hold drinks and popcorn.
Each seat offers innovative, ergonomic technology which caters personalized support to each individual. This means your family and friends are supported in the best ergonomic position as they enjoy the movie.
Quality Speakers and Audio Systems
Sound quality will set your home theater apart. The receiver and speakers are two necessary elements so it's important to do your research. A great movie can't be fully enjoyed without clear sound throughout the room.
Soundproofing
Quality sound is only the beginning. Soundproof the room to keep the sound inside so you can avoid disturbing other rooms in the house (or your neighbors!).
There are typically three ways to soundproof a home theater:
Install acoustic sound-deadening drywall.
Install sound dampening materials such as sound drapes, panels, or carpeting.
Mount acoustic panels on your walls.
It's suggested that new homes use sound-deadening drywall for best results. It's thick and absorbs sound the best. Remodeled homes may benefit from sound dampening materials or acoustic panels.
Remote Control Lighting
Good lighting contributes to a personalized movie experience. Remote control lighting saves you from getting up and dimming the lights or turning the lights on or off.
Lighting in a home theater should be subtle with a theater-like atmosphere, yet have the option to fully illuminate for cleaning or other activities. Choose fixtures that can be dimmed and remote controlled.
Interested in the best home theater seating for you home? Discover your options for Ekornes Stressless home theater seating.