Scandinavian design has mastered the art of being simple without being austere. For holiday décor, you'll find neutral colors with small touches of holiday cheer in place of traditional Christmas clutter.
Decorating your Scandinavian-themed living room is a matter of selecting the touches you want to emphasize.
Choose a Neutral Holiday Color Palette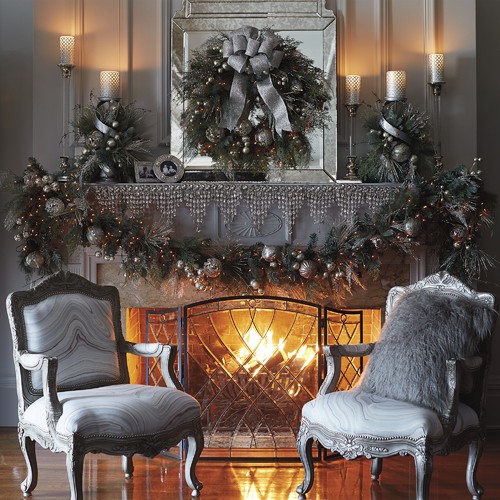 Your staple colors will be white, silver, and some gold. White lights, simple ornaments, and neutral throw pillows will create a tasteful holiday feel. From there, you can add occasional reds, greens, and even blues that evoke the azure tones of snowy landscapes.
Stressless furniture is the perfect backdrop for holiday decoration. With simple lines and neutral colors, it provides the framework of simplicity that you can embellish as needed.
Mix in Splashes of Color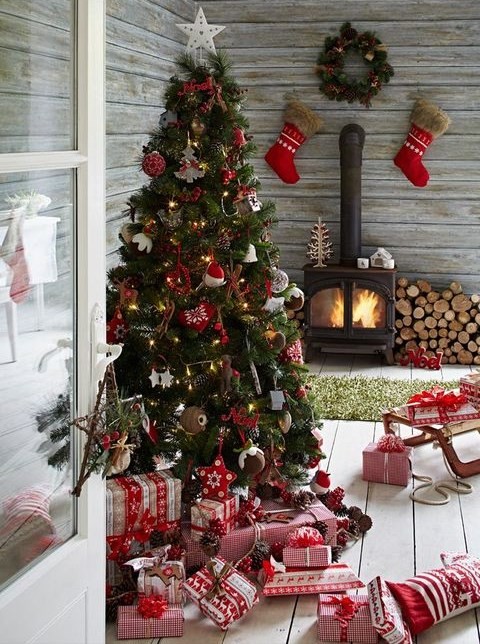 Mixed in with neutrals, splashes of bright colors add interest without overwhelming you with holiday fervor.
A red, wool blanket, green wreaths, brightly colored bulbs for the tree, and candles add holiday cheer while remaining relaxed. Complete the feel with a few throw pillows that have simple, natural designs (snowflakes, trees, rain deer, and the like).
Adding candles to glass surfaces that reflect the light is a beautiful way to enhance the aesthetic of one simple embellishment. Red candles on one of our Jazz glass tables will glow warmly on dark evenings.
Make Good Use of Light
Light plays an important role in Scandinavian design. First and foremost, natural light is a striking element. You don't have to remodel your home if you have small windows. Using lightweight curtains instead of heavy drapes will give the light, airy feel of Nordic design.
Candles and accent lamps are another way to invite good lighting in your home. For Christmas especially, the glow of flickering candles and strings of light creates festive cheer without requiring tons of decorating.
Use Natural Themes for Decoration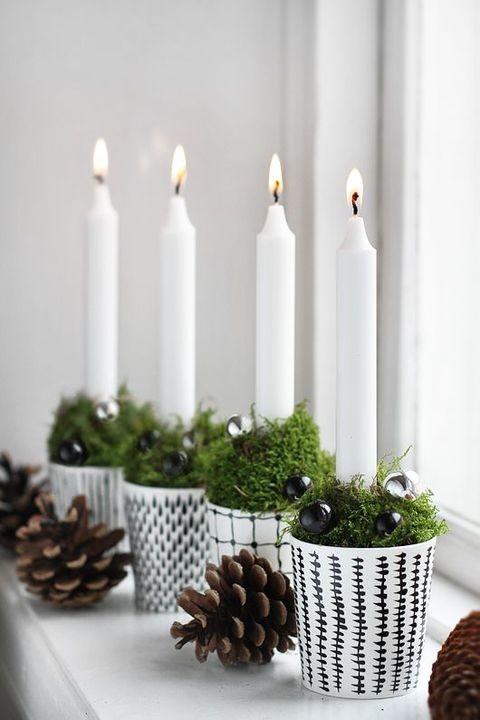 Scandinavian design celebrates nature. Sprinkle your home with greenery and pine cones to create the feel (and smell) of winter. This may be in the form of a few simple, natural wreaths or a centerpiece on the mantel or coffee table.
Natural materials are popular: wool blankets, wicker baskets, wooden figurines. A red wool blanket folded in a wicker basket next to your Stressless Manhattan 3-Seater adds the perfect holiday touch for a cozy evening.
Fur has also been popular in Scandinavian design although faux fur is replacing authentic pieces for ethical and environmental reasons.
The Underlying Theme: Simple and Stylish
As you search out inspiration for Scandinavian decorating, you'll see a theme emerge – simplicity. Whether you're going after traditional or modern Scandinavian designs, the simple lines, neutral colors, and stylish appeal remain the same. Keep holiday decorating simple by adding a few, well-chosen accessories to celebrate the season.
You'll find the beauty and simplicity you're looking for in Stressless furniture. Instead of busy patterns, you'll discover the clean lines and solid neutrals you've come to love in Scandinavian home décor.
If you're interested in a mid-century design and beautiful minimalistic, Scandinavian styled furniture for your living room, come visit our showroom. Our ergonomically designed furniture will create a welcoming center in your home.
If you're at all interested in architecture or design, you've likely heard the expression "form follows function." First coined by American architect Louis Sullivan, this axiom is one of the key principles in minimalist design, including Nordic design.
Let's take a closer look at this Scandinavian aesthetic and how you can incorporate its principles into your own home to maximum effect.
Four Foundations of Nordic Design
Simple Silhouettes
Nordic design relies heavily on simple, clean lines for its minimalist appeal.
Similar to mid-century modern design, Nordic furniture and furnishings are often geometric, and may boast gentle curves (think an oval coffee table or the gentle swoop of the iconic Arne Jacobsen chair).
If you've ever stepped into an Ikea, you understand that simplicity is key in Nordic interior design. Pieces don't have to be boxy, but they should never have intricate carvings, curlicues, or unnecessary frills.
Neutral Colors
Where Nordic parts ways from mid-century modern is in its use of color. Scandinavian design uses a lot of light-colored wood, metal, and white or off-white.
Neutral hues are the way to go when using Nordic design in a space, but that doesn't mean your room has to be all white. Instead, look to earth tones like creamy beige, charcoal gray, light tans, pale greens and blue.
These neutrals can be accented by brighter pops of color, of course. Bright grass green, the blue of the Swedish flag, a brilliant yellow or orange that brings to mind the flowers of midsummer — you get the idea. Just make sure not to overload the eye with multiple colors or clashing ones.
Negative Space
Since Nordic design is all about simplicity, it should come as no surprise that bright and airy spaces should be devoid of clutter. Knick knacks and tchotchkes take the attention off the furniture and the color palette, so relegate them to the attic.
It's not necessary to clear the room of every item, but be sure that the ones you choose are in keeping with the rest of the furnishings. Consider elements like houseplants, floating shelves, a beautiful wooden bowl, a geometric print.
Clean but Cozy
Are you familiar with the Danish term hygge? It's pronounced "hoo-gah," and while it's difficult to translate exactly, it refers to a sense of comfort and coziness.
Hygge is the feeling of being snug and safe inside a warm home, surrounded by friends and family, perhaps enjoying a hot beverage or a big pot of chili or stew — while a winter storm rages outside.
You might think that this concept would be hard to achieve in a minimalist environment, but Nordic design isn't strictly minimalist.
Yes, the clean lines, use of neutrals, and incorporation of negative space follow minimalist principles, but the Scandinavians invite comfort and warmth into the home, too.
How? Largely with textiles like velvety blankets, soft and inviting pillows, and plush throw rugs. Plants and flowers help bring the warmth of nature into an otherwise stark space. And don't forget the coasters for those mugs of hot chocolate!
For More Inspiration
Check out Ekornes Stressless Furniture, which combines the beautiful lines of Nordic design with the comfort you expect — and deserve — from contemporary chairs, recliners, and sofas.
The Scandinavian design has remained a prominent icon in the interior design universe.
These Nordic styles focus on neutral color schemes, paired with pops of calm colors and natural elements that bring the outdoors in.
Perhaps the most important aspect of the Scandinavian interior design is the concept of Hygge.
The word Hygge isn't one that translates perfectly into English, but it references the feeling of coziness, simplicity, and warmth in a home.
Imagine a cool, rainy day spent cuddled next to a fireplace with fuzzy socks and a warm blanket. This is the feeling that is meant to be captured in the Nordic style, one of complete sufficiency, contentment, and warmth.
Learn how to infuse your home with five of the most recent trends in this traditional and minimalist style.
1. Pops of Blue
In the past, Scandinavian interior design consisted primarily of white, black, and wood. But, one new color has come to bring life into neutral spaces.
The perfect compliment for the pale, cool colors, blue promotes relaxation and breaks up the monotony of neutrals.
Consider incorporating a blue accent such as a rug, painting, or blanket to bring this deeply natural color into your peaceful space.
2. Gray Walls
This style usually emphasizes the dichotomy of black and white in terms of wall hue. However, gray walls are becoming increasingly popular in 2017 as an alternative.
Gray is perfect to adhere to the overall theme while adding a level of unique beauty between the two predominant colors.
3. Worn Leather
There are few things in the world that blend as naturally and as beautifully as wood and leather.
These two elements of nature at a rustic charm to the Scandinavian style that would otherwise be overshadowed by the modern design.
The key is to find worn leather furniture that can provide the coziness that is the foundation of this interior design style, without sacrificing true quality.
4. Big Paper Lanterns
These large, white lanterns provide a modern and elegant alternative to regular chandeliers.
The placement of three to four of these in key spaces such as above a kitchen table is an ideal statement piece.
The lanterns come in different styles that can be customized to your preferences and placement.
5. Cacti
Last year, succulents completely dominated the indoor plant world. These resilient plants are not only hardy but also extremely unique.
However, their close cousins in the cacti family have slowly been gaining traction. Perhaps it's the dangerous, yet innocent nature of cacti or perhaps it's the pure beauty of these green life forms.
Either way, add small cacti to your space to bring the outdoors in while improving the aesthetic of the room.
Scandinavian Interior Design Principles
The key elements of all of these trends are the Nordic love of pale colors, nature, coziness, functionality, and contentment.
It can be easy to incorporate even a few of these design techniques to promote happiness and well-being in your home.
Simply invest in key elements that will bring make you feel "just right" rather than endless decorations that clutter and complicate your space. Keep it simple is the key piece of advice.
Check out European Leather Gallery's high-quality leather furnishings to add to your new cozy little Scandinavian haven.
At European Leather Gallery, we aim to bring you the highest quality furniture made in the USA and from around the world. We're pleased to now offer Elite Modern furniture. Learn more about the quality and design this modern furniture line offers.
Elite Modern Style
Elite Modern furniture styles are driven by their passion for original design. Since 1988, they have produced innovative and exceptional modern furnishings in the USA. Their reputation for creative designs and superior comfort are only trumped by the outstanding value of their products.
Superior Construction and Value
A sophisticated combination of materials is used to create Elite Modern furniture, including brushed stainless steel, powder coated metals, solid wood, and veneers available in several finish options. For a custom look, they offer numerous fabrics, leathers, and Ultrasuede selections to bring uniqueness to their diverse assortment of products.
Elite Modern controls every phase of their furniture production from the product design and development to delivery of their products. This ensures you receive their superior and reliable quality every time.
Elite Modern Products at a Glance
At European Leather Gallery, we feature Elite Modern's top bar or counter stool chairs and side tables. Elite Modern also offers retro and modern desks, chairs, beds, side tables, dressers, dining room tables, and more. Each item can be customized based on the appropriate fabric, leather, metal, glass, or wood options.
Meet the Design Team
Carl Muller – Independent Furniture Designer
Carl Muller is an independent furniture designer in Seal Beach, California and has worked with Elite for nearly 20 years. His talent has brought over 200 designs to market. Most are currently in production and continue to be top sellers.
Muller's goal is to make a fresh statement with every design while maximizing comfort, elegance, and economy. His influences come from worldwide current and historical trends.
Rick Lee – Product & Interior Designer
Based in San Francisco, Rick Lee finds inspiration from a variety of things around him – from a sleek pocket knife to a gnarled tree branch. Lee combines rational thinking with radical influences to create striking designs ranging from minimal to whimsical.
Rick was born in Korea of Chinese descent and came to the U.S. as a teenager. After earning his degree in industrial design, he started his career creating pieces for notable furniture manufacturers in Chicago. After moving to Milan, Italy in his mid-20s, his art for distinctive artistic style became what it is today. By combining European principles and experiences, he developed a unique style that's both vibrant and charismatic.
Elite Modern – Now Available at European Leather Gallery
We're proud to be offering the exceptional Elite Modern pieces at European Leather Gallery. Browse online or stop by our showroom to learn more about adding exceptional Elite designs to your home or office.
Hygge, pronounced "hoo-ga", is a Danish design concept from the 18th century. It can't be easily translated into one word but encompasses feelings of coziness, contentment, and well-being through simple things. If you've ever lit candles and curled up with a cup of cocoa and a fuzzy blanket on a rainy Sunday, you've experienced hygge.
Hygge is an important part of Danish design and lifestyle. "What freedom is to Americans…hygge is to Danes," says Meik Wiking, the CEO of Happiness Research Institute in Copenhagen and author of The Little Book of Hygge. Hygge traverses winter and summer by bringing feelings of peace and contentment when embracing the cold season in Scandinavia.
Denmark's obsession with all things cozy is one of the reasons why they top the world's list of happiest countries. Here's how you too can achieve hygge in your home.
Stock Up on Candles
Denmark and other Scandinavian countries are rumored to be the largest consumers of candles in the world per capita. To escape the winter's chill, flickering scented or unscented candles are one of the most fundamental principles of hygge. To achieve peace and comfort in your home, light a candle or two and enjoy the soft light and your favorite scents.
Fall in Love with Texture
When you think of cozy, your mind may instantly go to soft textures which add dimension to any interior. Faux fur throws, knit cushions, and fluffy rugs add textured accessories for layering different textiles and surfaces. Add a roaring fire, knit socks, and soft candlelight and your room couldn't get more hygge.
Less Is Much More
Hygge finds peace and fulfillment in the simple things. That means banishing clutter for a mess-free home. To embrace hygge, invest in clever storage solutions to hide visual clutter from view. The Danes believe a clean, serene space makes it easier to enjoy more continuous moments of hygge.
Display Your Memories
Hygge encourages creating an environment of happiness. Freely display your favorite paintings, family photos, and travel adventures. Surround yourself with the simple things that make you happy.
Embrace a Spa-Like Style
Start your spa-like style in the bathroom with a soaking tub, candles, soft bath robes, good lighting, and clever storage. Instead of rushing your morning routine, create space for rest and rejuvenation by making your bathroom feel like a daily trip to the spa.
Enjoy Soft Tunes
What could make candles, a cozy blanket, and a warm cup of tea any better? Relaxing music. Music is an important element of hygge to lift the mood and relax the mind and body. Invest in sleek Bluetooth speaker and play soft instrumental music or your favorite tunes in the background while you get ready in the morning or relax in the evening.
Enjoy the Sentimentality of Things Past
The Danes don't like to waste, so they recycle and reuse old objects such as antiques and furniture in creative ways. With hygge, nothing needs to be perfect. It's more about the sentimentality of a family antique or pieces of the past with history and memories.
At European Leather Gallery, we carry high-quality low back loveseats and sofas and recliners with sleek designs to achieve ultimate relaxation. Is it time to freshen up your space? View our selections online or visit our showroom to test our Scandinavian-inspired furniture and styles.
At European Leather Gallery, we scour the market looking for the top furniture providers who value quality over quantity. We're thrilled to partner with Flexsteel furniture to offer you more great options for high-quality furniture made in the U.S.A.
Get to know what makes Flexsteel sofas a stylish and durable addition to your home.
People, Not Machines, Make the Best Furniture
Flexsteel's commitment to quality craftsmanship continues to be as strong as ever. For over 100 years, Flexsteel has embraced technology and innovation, but still holds true to their belief that handcrafted furniture is better than anything you can get from a machine.
Flexsteel Specialty – The Blue Steel Spring
At the core of their upholstered seating is their Blue Steel Spring. Flexsteel believes strongly in their design that they guarantee its durability for a lifetime.
For over 75 years, the design itself has remained very similar. Unlike typical eight-way hand-tight springs, it never needs to be retied or replaced. This means you'll never get that sinking feeling in your seat ever again. Flexsteel design and construction go hand in hand to create comfortable and long-lasting furniture.
Your Features – Your Choice
Flexsteel furniture is made to order. Choose the fabric, wood finish, cushion style, and trim options at European Leather Gallery. The Flexsteel system tracks your order and their delivery staff ensures your piece arrives quickly and safely.
Guaranteed to Last
Flexsteel takes their job of testing the durability of their furniture seriously. All of their products are tested to ensure you receive the highest quality, durability, and safety standards before they leave the factory. Their products and materials are backed by warranties, including a lifetime limited warranty for internal structures:
Springs
Wood frames
Metal bases
Reclining mechanisms
Seat cushion foam
Feathers
In addition, their 5-year and 1-year warranties cover even more features. You're guaranteed to enjoy your Flexsteel furniture for many years to come.
Where It All Began
In 1893, the Rolph & Ball Furniture Company began manufacturing furniture in Minneapolis. By 1901, they sold the company to four former tradesmen from the nearby McCloud & Smith Furniture Company. After a few name changes and surviving the stock market crash in 1929, the name was changed to the Flexsteel Spring Corporation and moved to Iowa in 1936.
In the 1950s, new plants sprung up in several states to serve other areas. In 1958, The company was formerly named Flexsteel Industries after their famous spring. From the 1960s to the 1980s, the company continued to grow and add new products with advanced technology for the time.
In 1993, the company celebrated 100 years of success. Later in 2003, the company purchased DMI Furniture, Inc. with a line of kitchen, dining, bedroom, home office, and outdoor products under the brand name Home Styles.
Flexsteel is an American success story with a proud history and a bright future.
Flexsteel Furniture – Now Available at European Leather Gallery
Browse our selection of Flexsteel sofas and sectionals online or visit our showroom to learn more about custom Flexsteel furniture for your home.
With so many great design styles to choose from, how do you know what's right for you? And are they really that different?
If you're confused about where to begin, we've done the research for you and are explaining three popular design styles: Scandinavian design, mid-century modern, and contemporary.
Scandinavian Design Style
What is it?
Scandinavian design can be explained in three words: simplicity, utility, and beauty. It emerged as early as the 1930s from the five Nordic countries of Denmark, Iceland, Finland, Norway, and Sweden before peaking in the 1950s. A range of designers who started the movement inspired the tangible values of durability, reliability, and functionality, including those less tangible values such as simplicity, joy, and courage through simple forms.
Scandinavian design believes beauty, functionality, and comfort should be available to all. A strong relationship between nature and abstract, natural shapes exist. Natural materials such as wood, leather, hemp, and more are used to create nature-inspired pieces. Scandinavian design styles seek to improve daily life through the unique design of furniture, textiles, lighting, dishes, etc.
Design Tips
Go Natural – Don't be afraid of wood walls, floors, and accents on furniture. To take the yellow hue out of pine or oil, many use gray oil for a cooler tone.
Function – Scandinavian interior designs are very livable. Beautiful furniture becomes storage to hide belongings from sight.
Eco-Friendly – Swedish families are quick to add eco-friendly aspects to their homes. Proper insulation, solar, and large windows with natural light.
Keep it Simple – Scale back on accessories and declutter your interior.
Mid-Century Modern Design Style
What is it?
Mid-century modern describes design styles from the mid-20th century, roughly 1933 to 1965. The term often refers to mid-1950s architecture and design. These designs were born during the Industrial Revolution at the end of the 19th century and included the post-World War I period.
Mid-century modern made its debut in 1984 when author Cara Greenberg titled her book, Mid-Century Modern: Furniture of the 1950s. According to Greenberg, she just "made that up as the book's title." Lucky for her, the title stuck.
Design Tips
Furniture – This era featured clean lines accented with smooth, curved angles. Rarely you'll find fancy ornamentation or upholstery. You may find wood construction, fiberglass, or metal creations.
Lighting – Floor or table lamps are straight-lined or have a round, curved contour. The contrast in shapes creates a bold statement for lighting in a room. Most pieces are made with finished metal.
Contemporary Design Style
What is it?
Contemporary design is defined as current or present designs. Many people use the words "modern" and "contemporary" interchangeably, but modern design actually refers to the mid-1990s.
Contemporary designs change with each passing year. Designs once considered contemporary in the year 2000 could now be considered vintage. Those created a decade from now will also be referred to as contemporary designs. Therefore, contemporary designs are ever changing due to new ideas, materials, and availability of resources.
Design Tips (2017)
Texture – We spend plenty of time looking at screens, so it's time to engage on the textural level. Furniture, pillows, blankets, and décor – don't be afraid to increase the comfort of texture in your home.
White with Off-White – There's something refreshing about a room bathed in white. But a stark white tone can feel clinical. Balancing a white palette with creamy off-whites and linen creates a calming richness.
Artisan Over DIY – Experienced craftsmanship is in. Glass blowing, porcelain, and even woodworking are now on display.
Technology – Voice-activated assistants such as Amazon's Alexa and Google Home are the popular smart home devices. These devices can be placed throughout the home and activated at your command to dim your lights or power up the hot tub.
So, What's the Difference?
All styles have a few similarities with unique differences inspired by their era and cultural background. At the core of each style is your comfort, with alternating focuses on simplicity, splashes of color and pattern, and the ever-evolving contemporary styles which can change with each passing year.
At European Leather Gallery, we specialize in Scandinavian-inspired furniture designed with your comfort in mind. Preview our gallery online to find your new home interiors.
The man cave has long been heralded as a sanctuary for men and a necessity for the hard-working male. It's where they go to relax, unwind, and escape the stress of their daily routine. While the concept isn't new, it's time to expand on this idea for the ladies.
Women master many roles – wife, mother, entertainer, artist, employee, business owner – and she too deserves a place of her own to unwind and relax after a long day. A place where comfort meets design and the to-do list is non-existent.
The lady lair is the new man cave. A place in the home for women to enjoy what they love and relax in pure comfort. So, find a space in your home, an unused guest room or a sectioned off corner of a living space, and get to work creating your own lady lair sanctuary in your home.
1. Surround Yourself with What Inspires You
As you develop the concept for your lady lair, make space for the things you love. A lady lair can be based on your passions – what inspires you and invokes relaxation.
For some, their lady lair may become a private yoga studio with the right level of simplicity or comforts to clear your head. For others, it may become a reading or writing room with comfy chairs, a table or desk, and soft lighting in a peaceful setting. For those who enjoy crafts or sewing, a lady lair can become a space for their hobbies with supplies organized and easily accessible.
2. Good Lighting Is Important
Contrary to a dark man cave, take full advantage of the natural light available in your lady lair. Keep the curtains or shades open to allow light to stream in. During morning or evening hours, or when natural light is limited, use decorative table or floor lamps to give the space the light it needs.
3. Focus on Atmosphere
The little touches are essential to the purpose of the lady lair. Choose a few of your favorite colors then look for accessories in a similar hue which inspire a sense of calm. Include art elements that reflect your personality and personal items that offer positive reinforcement.
Fresh flowers, essential oil diffusers, pictures, lamps, throws, pillows, and soft music are just a few ways you can transform an ordinary space into a spa-like retreat.
4. Include Lots of Pillows and Comfy Seating
A cozy corner chair is a necessity to relax and curl up with a book, Kindle, or enjoy your morning coffee in a peaceful setting. If you have room, include a plush sofa for additional seating to invite people over to get comfy. Add large patterned or colored pillows for warmth and coziness. When you need extra space, stash pillows away in an ottoman with easy storage.
5. Keep the Space Organized and Clutter-Free
Clutter and disorganization are the enemies of relaxation. Make sure this space is well-organized and clutter-free. As you consider the design, get creative with storage solutions such as bookshelves, wicker baskets, and fabric covered boxes.
At European Leather Gallery, we help women choose the right furniture to inspire true relaxation. Check out our selection of ergonomic recliners, sofas, and loveseats online today.
While you'll pay more for Stressless recliners, sofas, and office chairs, you gain a lot more for your dollar. Cheaper, mass-produced furniture doesn't last as long and often ends up in landfills. With Stressless, you receive high-quality furniture pieces to enjoy for decades while reducing waste.
The following are 10 great reasons Stressless furniture is worth every penny.
1. Your Comfort Is Their #1 Priority
Nobody cares more about your personal comfort at home or in the office than Stressless. Each furniture piece contains internal technology to support your body's position and plush cushioning to allow you to completely relax.
2. Customizable Options
Furniture shouldn't be one-size-fits-all. With Stressless, you can customize the leather, upholstery, and wood tone to match your style and preference.
3. Healthy Back, Happy Life
Stressless has the technology and ergonomic support many other furniture makers don't offer. As you sit upright or glide into position, the chair stays focused on offering the proper support for your back. And we all know when your back is happy, so are you.
4. Luxurious Genuine Leather
One of the customization options you can pick from is high-quality genuine leather. The look, smell, touch, and feel of Stressless genuine leather is a sight to behold and something you must experience for yourself.
5. Stressless Stands the Test of Time
These aren't chairs or sofas you'll get rid of anytime soon. They're built to last and so comfortable that you may hold on to them for decades. If you decide to sell later and switch to a newer model, they maintain their value.
6. Just the Right Style
No matter your style, Stressless has you covered. As a forward, innovative company, they have gorgeous, modern styles to choose from. More of a fan of traditional styles? You can find just what you need with Stressless.
7. Norwegian-Inspired Designs
Crafted in Norway, Stressless designs are inspired by Norwegian styles with a simplistic, minimalist flair. Reclining chairs have an open, airy feeling with a swivel base and the fine lines of their sofas inspire sophistication and relaxation at its finest.
8. High-Quality – Guaranteed
All parts and pieces from start to finish are made from high-quality materials and sturdy steel. Stressless stands by their work by guaranteeing their products and materials against failing from regular wear and tear.
9. Back Support When Sitting or Reclining
Whether you're sitting all day at the office or relaxing in your easy chair, Stressless offers support at all angles. You should be protected any way you choose to relax, which is why Stressless technology reads your body position and automatically adjusts for the best fit.
10. You'll Love How It Looks in Your Home
Stressless recliners, sofas, and sectionals are beautiful additions to any home, condo, or apartment. If you're looking for a wow-factor piece that delivers on its promises, you'll discover Stressless furniture does not disappoint.
Stressless furniture is an investment, but it's an investment that gives back tenfold. Visit the European Leather Gallery showroom today or browse Stressless furniture options online to find the perfect fit for you.
In our efforts to offer our customers the highest quality furniture and styles from around the world, we're excited to bring you Fjords Hjellegjerde Norwegian furniture! Learn more about why Fjords Hjellegjerde furniture is special, including their unique focus on style and innovation.
About Fjords Hjellegjerde Furniture
Since 1941, Fjords furniture has been inspired by Norwegian nature. Over 70 years ago, brothers Otto and Mindor Hjellegjerde launched the furniture company in the fjord village of Sykkylven in Norway. Their third brother, Ingvar, joined the business in 1946.
Together, the brothers harnessed their fierce dedication and skills to build one of the largest furniture companies in Norway. Now, their small family business has reached four continents.
Fjords Hjellegjerde – Inspired by Nature
What makes Fjords furniture different than other manufacturers is the source of their inspiration. Envision nearby landscapes where the endless motion of the ocean meets the strength of the mountains. Or consider the contrast between darkness and light in Norway constantly changing – one cannot exist without the other.
While surrounded by robust nature, they make their furniture solid. As nature daily expresses generosity, their furniture is designed for generous comfort.
Tradition Meets Innovation
While Fjords is inspired by nature, their focus is on finding the balance between tradition and innovation. The place where the knowledge of yesterday meets today's modern technology. Fjords puts great emphasis on high-quality craftsmanship and Norwegian design with the same dedication and skill as when the company first began.
Built-in Ergonomic Comforts Designed to Improve Your Health & General Well-Being
Fjords believes in constantly innovating and improving their furniture for continuous comfort and health. Ergonomic furniture helps your body relax and enables your blood to circulate freely.
Fjords ergonomic chairs feature:
Active Release System™ provides better support for your neck. It can be adjusted with a single movement to optimize your sitting experience.
High-quality steel is used to construct the back and seat.
Springs in the back and seat enhance comfort.
Cold cure molded foam is shaped in casts with the exact shape of the product. This method retains the suppleness of a chair for longer use than other foam methods.
Dacron fibers are inserted between the upholstery or leather and foam. This provides extra softness for the back and seat for improved comfort.
Built-in gliding steel mountings offer individuals the best resting position as your body weight glides you into the desired position.
Discover the Beauty and Comfort of Fjords Hjellegjerde Furniture at European Leather Gallery
Come relax on a Fjords gliding chair and see for yourself the dedication, innovation, and design put into this Norwegian nature-inspired furniture. At European Leather Gallery, we offer an array of high-quality leather and upholstered furniture. Search your favorite styles online or come see us in our showroom today.