Your furniture defines the look of your living room. The styles you choose and the colors you love help create the personal vibe you seek. But don't forget that after all is said and done, it's important that your chairs and sofas contribute to a healthy lifestyle, not just a beautiful one.
When selecting a new chair or sofa for your living room, don't forget to consider the impact it will have on your back.
We'll leave the design options up to you but for help with choosing furniture that won't break your back, here is a good set of guidelines to follow. They're worth considering if you care about the health of your spine… and judging by the long hours most of us spend sitting down, you probably do!
What's Wrong With Your Current Recliner?
To know what to buy, it helps to understand what's probably wrong with most of the furniture out there. Most people choose their living room furniture according to their own set of design principles:
Does the color match the rug?
Does it fit my unique sense of style?
Do I love the way it looks?
…with some thought given to comfort:
How does it feel when I sit in it?
Can I stretch out and relax?
Does it recline? Is there a matching ottoman?
These are all very good questions. There's nothing wrong with getting the right look but the way most people approach the comfort element is severely short-sighted.
The feeling you get when you first sink down into a recliner on the showroom floor can be misleading if you don't know what you're doing. Does it feel soft?
Wrong question…
A better question would be: Does it support my back and feel comfortable? Another good question: Does it adjust to my body instead of the other way around?
If you chose your current recliner because it felt 'soft' when you tried it out, there's a good chance it doesn't provide you with the proper support for long-term sitting and relaxing. For people who need to pay attention to spine health (and who doesn't?), that can turn into a problem — a very uncomfortable problem.
Lucky you, since you're in the market for a new chair and you can avoid that all-too-common mistake.
Here's Your Guide to Choosing The Best Ergonomic and Back-Friendly Furniture
So, what should you look for if not temporary show-room comfort and 'softness'? Here's what to do to ensure your living room seating pleases the body as well as the eye.
1. Buy the Right Size
Most people don't think of their furniture the same way they do their clothing. That's a shame since the right size is a key feature of back-friendly seating. You've probably noticed that people come in all different shape and sizes.
Just as Goldilocks discovered, it's just no good sitting in someone else's chair.
Just because a chair feels fantastic on Uncle Frank's back, neck, and tush, it doesn't mean you'll find seating Nirvana once you try it out. Seating should be fitted to the person who's going to be using the chair most often.
Look for seating that comes in various sizes and then select the one that's right for you. Consider height, of course, but don't forget to check the width. Don't assume that a chair that's too wide will be suitable. It's not just about making sure you can squeeze into the seat. A chair that's too wide can mess with your spine just as badly as one that's too narrow.
For the vast majority of us, any seating that's not good for the spine is bad news. The percentage of the population that suffers back problems at some point in time is shockingly high: 80 percent(1). If you can alleviate any problems simply by purchasing the correct size seating, this is a good first step.
2. Check for Lumbar Support
If you've ever driven a luxury car, one of the first things you might have noticed is how comfortable the seating was.
That's partly due to the extraordinary amount of attention given to lumbar support by designers of premium cars. Not only does good seating have lumbar support but it also comes fully adjustable. That means you can find the ideal setting for your back. It also means you can switch things up when you need a change during those long drives.
It's the same with back-friendly furniture. You'll have the best outcome when there's good lumbar support. Even better is when you can adjust the lumbar settings. That makes a huge difference during those long periods of sitting while bingeing on Netflix or otherwise relaxing for long stretches at a time.
3. Make Sure the Seat Can Adjust to Your Actions
It's not your typical living room seating that can adjust to the different ways you sit. That's usually a feature of high-end office seating. It's also not common to find seating that moves with your body but certain companies specialize in making chairs and sofas that can accommodate different activities.
For instance, when you're watching TV, it's good to have neck support so you can see the screen without straining. The same goes for reading, where you'll want to have your head tilted slightly forward. Your chair should cradle your head at the base, keeping it in a natural position.
Napping, on the other hand, requires a different position. For comfort and maximum spine health, it's better to have the head rest flat. Chairs that come with movable headrests are optimal so you can easily switch from reading mode to napping. 'Easily' is the keyword, since if the headrest is difficult to adjust, you probably won't end up moving it at all.
4. Look for Other Automatically-Adjusting Features
There's no such thing as magic furniture, but there are chairs that can automatically adjust to your body weight and your position. That ensures not only maximum comfort but also better support for your back. Again, the keyword is automatic. If it takes any effort at all, most people won't bother to turn that knob or adjust that lever for better ergonomics.
Picture it yourself: can you imagine fussing with knobs while you're transitioning from watching TV to slipping off into nap mode? Chairs have to be automatically adjustable (or at the very least, easilyadjustable) in order for you to enjoy the maximum ergonomic benefits your spine craves.
People whose job is to advise other people on ergonomics will always tell their clients to keep moving throughout the day. Having a recliner that adjusts automatically (or at least easily) to a number of different positions will help you keep moving even when you're sitting down at home.
No matter what position you're in, however, you'll want to maintain the natural curve of your spine —especially your lower back. This is recommended by chiropractors giving advice for proper sitting(2). Features that adjust automatically to your spine may do a lot to help you keep the right position while sitting.
5. Watch for the Golden Seal of Approval
Finally, there's one more thing to look for if you're seeking spine-friendly furniture for your living room. It's considered the gold standard for ergonomic furniture standards: an endorsement from the American Chiropractic Association (ACA).
The ACA is the largest professional organization in the country for chiropractors. Their public-facing role includes publishing tips for healthy spines, good posture, and endorsements for products that support chiropractic health principles. At the time this guide went to press, there were only six manufacturers who were given the official seal of approval from the ACA:
Ekornes Stressless (sofas & chairs)
The North Face (outdoor clothing)
MoonRock (bags)
La-z-boy (furniture)
True Innovations (furniture)
Magniflex (mattresses)
This last criterion isn't required, especially since it's a rare find. But if you can score approval from the leading spine care organization in the United States, your spine is all but guaranteed a much better experience. Good luck in your search and here's to your healthy back!
References
Americans spend on average 13 hours a day sitting down. With all that time spent sitting, you want to make sure that you are resting in the most comfortable furniture or your body.
Stressless Furniture innovates comfort for the optimum sitting experience.
We have gathered reasons why our Ekornes Stressless Furniture would be a great addition to your home or office.
Durability to Last Your Family For Years to Come
Ekornes Furniture is worth the larger price tag and the investment because it stays in great condition for a long amount of time.
It practically pays for itself!
This means that you won't have to keep purchasing cheaper furniture that wears down quickly.
Replacing furniture every few years doesn't make any sense for your home or your wallet. This quality furniture is a smart investment.
Ekornes Stressless Furniture Understands Your Body
Ekornes furniture comes in recliners, office chairs, reclining sofas, ottomans, and even sectionals. They work well in many different areas of the home and office.
With all of those style options, you want to make sure that you are getting the most comfort in each piece.
This furniture has a mind of its own which is adjustable with body interaction. This ergonomic support helps make the furniture adaptable to many different scenarios and people.
Stressless recliners have done away with some of the preset positions you are used to. It allows the furniture to read and work with the body to find the best reclining position.
The proper support is one of the many reasons people love Ekornes furniture.
Where Style Meets Functionality
Ekornes furniture has been combining functionality and utility with style for decades. They are experts in furniture that works well and looks beautiful as well.
Many designs and materials to choose from that will ensure the furniture fits the rest of the features in that particular room. This allows you to customize the piece to best fit your needs.
They have mastered the little details that make the design. There are a wide selection and variety of colors for the leather and stains for the wood base.
This isn't a one-size-fits-all furniture situation. This furniture is guaranteed to become one of your favorite pieces because you help design the look of it.
The Unique Technology
What makes the Ekornes Stressless furniture stand out from others on the market is their innovative technology.
Plus(TM) System
Lumbar support
Works with natural body curvature
Headrest and footrest
Springs that follow the body shape
Automatic adjustment
The Comfort-Zones(TM) Technology
Dual-layered foam over a curved steel frame
Air pockets in the foam for comfort flexibility
Stressless(R) Glide System
Signature wheel system
Adaptive to each user based on weight and shape
360-degree swivel base
Automatic shifting of position
This is how the furniture works with your body to provide the most comfort for your specific body and position while resting.
Unmatched Comfort
The last thing you want to do is waste time in uncomfortable furniture.
Take a look at all the Stressless furniture options that we have to offer to complete your home.
Have you ever tried sitting in a piece of Ekornes Stressless furniture? If you haven't, you have to go try it out now. Trust us when we say it is an amazing feeling.
But what makes this furniture so much more comfortable than other types? Let's look at 4 benefits to show you why this furniture is so amazing.
Proper Support
Hands down Stressless furniture offers amazing head, neck, and lumbar support. Proper ergonomics in an office chair is vital. Around 33% of all work injuries are musculoskeletal disorders. These result largely from sitting incorrectly for hours on end.
The back support and headrest are both completely adjustable. Choose whether you want to be upright or in a reclining position. It's easy to get into a comfortable position. Simply make easy hand adjustments to get there.
360 Degree Swivel
You are not confined to one direction while seated in our chairs. We know that once the chair envelopes your body you won't want to stand up again anytime soon. But with the 360-degree swivel base, you can easily change directions. All it takes is a gentle push with your foot.
The bases feature a double stem design that makes them super stable. In fact, these are the most stable of all swiveling recliners.
Easy Adjustment
Stressless furniture uses a unique system called the Glide. The system adjusts the position of the chair with ease.
On either side of the chair, you'll find a rod with a tension knob or wheel. Simply set the knob when seated in the chair. This will set the tension for your particular body weight.
Now all you have to do is lie back and the chair will move with you. It is the same for coming back upright again. Simply shift your body weight and the chair will move. It's completely handsfree which is so helpful in many cases.
To ensure authenticity, check for the Stressless logo on the little wheel.
Customization and Durability
Another awesome thing about Stressless is how the furniture looks. There are several materials that you can choose from. All are of the highest quality and rest assured they will last for years.
Ekornes chooses only top-grain leather hides. Each has to pass their strict quality control tests. They come in a variety of colors so you are not restricted to only a few options. You can also choose any of the microfiber or woven fabrics they offer.
The company makes the base from European beech. But there is a variety of stains you can choose from. This gives you flexible design options so you can create your favorite look.
Ready to Buy Stressless Furniture?
Are you starting to see Stressless furniture in your future? With all these amazing benefits and the furniture's affordability, it only makes sense.
Take a look at our virtual showroom or better yet come visit our store! Once you sit in a Stressless recliner you will be ready to buy one. When you do, your back, neck, and shoulders will all thank you for it.
Interested in seeing pics from our satisfied customers? Check out our Video Here
When I'm looking for inspiration, one of the first things I do is go straight to the internet. Whether I'm looking for DIY projects, interior design ideas, or just looking to understand current trends there are tons of great websites created by professionals and amateurs that I look to.
While Pinterest is a good resource to see what other people are 'pinning' I'm partial to blogs and designer websites.
You might be wondering "why should I care about what designers or bloggers think?"—well, that's a good question, and the answer is simply: these site owners and bloggers are some of the most passionate about design, decoration, renovation, and virtually any other aspect of home decor you can think of. Who better to look to for inspiration than professional designers and highly passionate bloggers?
Without further ado—here's our favorite interior design and home decor blogs. Get ready to bookmark these great blogs.
Scandinavian Design Blogs
We're starting off here, well, because first and foremost we absolutely love Scandinavian design. Ekornes Stressless is an iconic Norwegian brand and that's where my heart and mind go when I initially think of design.
A very Scandinavia-centric site, it is a great one-stop destination for Scandinavian lifestyle (not just design) in English. If you're a "Scandiphile" (their word) this is where you can get a feel for Scandinavia wherever you are.
One of my favorites from the site: The White Rooms — this is a photographic tour of apartments and office spaces.
Also look for their "Scandi-Six" pieces—six item blogs on some aspect of Scandinavia.
Follow Scandinavia Standard on:
Facebook Twitter Instagram Pinterest
"Dos Family is about good looking sofas, fleamarket findings, TV, how to build a diner with toys, country living, everyday life, food, felt pen-tattoos and home tours. It's all about the strange and beautiful thing called inspiration, really." The Dos Family site has been around since 2009 and is run by Jenny Brandt, a Swedish interior design photographer. If you're not sure where to begin on the site, check out their New Reader Intro page — you'll be able to find some of the most popular posts there.
One of my favorites from the site: Irma's Playhouse
Follow Dos Family on:
This is one of Sweden's oldest design sites (it might actually be the oldest)—it was started in 2005 and focuses on the minimalism and functional styling of Scandinavian design.
One of my favorites from the site: Dream Summer House — I love the large wall of windows in this house and the simple concrete and wood materials.
Follow EMS Designblogg on:
Stylizimo is a design blog by Nina Holst, a Norwegian blogger. Her photos are beautiful and that's what drew me to her site. There is a lot here, especially for the DIYers
One of my favorites from the site: Workspace Inspirations — I love the design ideas for office spaces here. This might be my favorite office set (but it definitely needs one of our amazing Ekornes Stressless home office chairs).
Follow Stylizimo on:
Bungalow5 is a Danish blog for people who are passionate about design and anyone seeking inspiration and unique ways to decorate a modern, comfortable and stylish home. The site is owned by Allan Torp, a fashion industry and PR professional. Instead of sticking with the tried and true "project based and DIY blogs" Allan wanted a more design-inspired site that put the spotlight on simple and fresh Scandinavian inspired design.
One of my favorites from the site: This is My Favourite Spot — the first time I came across this post I expected to see pictures of one area of a house. Click through to be pleasantly surprised by the "favourite spot" in the post. It gave me the idea to do something similar in my own home!
Follow Bungalow5 on:
Facebook Twitter Instagram Pinterest
This is a London blogger's Swedish design site. I love how simplistic the site is to match it's focus on Norwegian/mid-century minimalist design.
One of my favorites from the site: The Lovely, Light-filled Workspace of a Blogger and Nutritionist
Follow My Scandinavian Home on:
Facebook Twitter Instagram Pinterest
Just as the name implies: this is a curated site with lots of Nordic and Scandinavian inspired design along with photos and blogs for inspiration. Deals with more than just interior design, Igor the site's owner includes lots of categories to get an idea of the wide range of this style of design.
One of my favorites from the site: 5 Tips for Mastering Nordic Interior Design
Interior Design Blogs
In no particular order—here are some of my favorite general interior design/home decor blogs
There are some beautiful and amazing interior design shots on this site. You can easily get lost for hours here if you're in the 'research' phase of a project or renovation. I really enjoy the before and after posts she does.
One of my favorites from the site: Before + After: Client Z to the E to the N — it goes from a dark, uninviting (in my opinion) space to a bright, open kitchen and I can honestly say, I would love to prep a big family meal in there.
Follow Amber Interior Design on:
This is a great blog for the DIY interior designers, this is a quintessential lifestyles blog—with a little of everything, including recipes and travel inspiration. Personally that's not my cup of tea, I much prefer the interiors section with all of its organic materials and modern looks.
One of my favorites from the site: Office Makeover Reveal
Follow Paper & Stitch on:
Facebook Twitter Instagram Pinterest
Brittany is an accountant by trade and decorator by passion, and it comes through in her posts. There's a logical order to her inspirations. This is much more of a DIY-type site, and less 'professional' than others, but what she posts is no less beautiful.
One of my favorites from the site: Ikea Hack: Mid Century Bar Cabinet — this would look great paired in an open concept living area with one of our Stressless sofas and recliners for a true mid-century modern look.
Follow Brittany Makes on:
Facebook Twitter Instagram Pinterest
It would be kind of silly to leave Design*Sponge off any list of great design blogs. I like that Grace, the site owner, doesn't shy away from color. Looking at her interiors sections gives a reader ideas to combine color and simplicity into lovely living spaces.
One of my favorites from the site: Beachy "Treehouse" in Melbourne, Florida
Follow Design*Sponge on:
Facebook Twitter Instagram Pinterest
Ok, so we've been featured on this site before, but that's not why I love it. Deb posts beautiful shots of her DIY updates to her home. I like the simplicity of many of her designs and the way she tries to stretch a little into a lot!
One of my favorites from the site: Design Boards — this is a bit of unique spin on ideas. I like how she sets up design boards for different rooms and it's great if you're not sure what style you're looking for.
Follow Seeking Lavender Lane on:
Facebook Twitter Instagram Pinterest
This blog is by a freelance web designer and the themes around the site are about designing small spaces effectively.
One of my favorites from the site: Gifts Ideas for New Homeowners
Follow Decorology on:
This is not your typical design blog. The site is sort of a cross between storytelling and design history with home and lifestyle design added in.
One of my favorites from the site: Stamped Salt Dough Ornaments
Follow Even Cleveland on:
Jenny is a Phoenix area blogger and designer—her stuff has been featured in some really big publications like Better Homes and Gardens and HGTV. She's been sharing her insights and favorite projects on the blog since 2007.
One of my favorites from the site: Bavarian Forest Walls — I'm not usually a fan of dark colors in rooms, but for some reason this just works. I especially love the idea of "nightstands" (which are really wall mounted shelves).
Follow Little Green Notebook on:
Facebook Twitter Instagram Pinterest
There's a little of everything here—this lifestyle blog is run by two sisters and they share home decor, food recipes, and crafty projects. Like I said, you can find a bit of everything on this blog.
One of my favorites from the site: Ikea Credenza Restyle
Follow A Beautiful Mess on:
Facebook Twitter Instagram Pinterest
Decor8 is owned by Holly Baker, a journalist and interior design stylist. On her blog she likes to "share decorating ideas, trends and beautiful objects and places – those extra special finds, often made by hand, things that tell a story."
One of my favorites from the site: Gotland Sweden Travel Tips — I dream of going to Sweden but haven't been, scroll down to the comments section to read some great travel ideas.
Follow Decor8 on:
Facebook Twitter Instagram Pinterest
In Jessica's own words: "I am particularly obsessed with flowers, crops, produce, and the countryside which surround me here in Wisconsin. I also find endless inspiration at our local farmers' markets and farm stands." This blog is all about color—she creates color palettes inspired by nature and produce. Just a cool, very different type of design blog!
One of my favorites from the site: Heavenly Hues
Follow Design Seeds on:
Facebook Twitter Instagram Pinterest
A leading interior design blogger from San Francisco (but now living in LA), this site is about 'Bohemian style' and showcasing designers, trends, and products. Victoria Smith (the owner) also focuses on thrifty/affordable finds for creating your style. Just a great, unique style blog.
One of my favorites from the site: Dining Rooms that Double as Workspace
Follow SF Girl By the Bay on:
Old Brand New is pretty much summed up in it's name: "it's all about mixing the old and the new. Turning something old and making it brand new! For interiors, I am an eclectic bohemian at heart where I blend different periods of design."
One of my favorites from the site: DIY Mid Century Desk Wall Unit — I really love multi use projects, and this 'bookshelf' and work desk setup is a great example of that.
Follow Old Brand New on:
Facebook Twitter Instagram Pinterest
Apartment 34 offers inspiring ways to add sophisticated style to your life. On the blog, they share modern décor, classic style, must-make food, wanderlust-worthy travel – all the good stuff that makes day-to-day life a little bit better.
One of my favorites from the site: Coconut Chocolate Pistachio Tart
Follow Apt 34 on:
Facebook Twitter Instagram Pinterest
L.A. based designer and blogger Justina Blakeney loves "boho aesthetic." Her blog highlights her passion for color, pattern and plants, and TheJungalow.com, has quickly become a go-to source for bohemian design inspiration.
One of my favorites from the site: Tour the Jungalow — I really love home tours, to get an inside look at other people just gives you a little bit better understanding of the person behind the blog/home. I love the amount of color throughout Justina's jungalow!
Follow The Jungalow on:
Facebook Twitter Instagram Pinterest
Igor Josifovic started Happy Interior Blog in 2011 with the intention of bringing more happiness to our homes and lives. His blog focuses on interior design and decoration ideas for happy homes, showcases the beauty of the world and inspirations he has brought home through his travels. Something a little unique to HIB is that Igor loves to highlight the beauty and beneficial power of houseplants.
One of my favorites from the site: Scandinavian Home in Germany
Follow Happy Interior Blog on:
Facebook Twitter Instagram Pinterest
The Inspired Room is a decorating blog designed to help you love the home you have. For two years in a row (2014 and 2015) it was voted the Reader's Favorite Decorating Blogger at Better Homes & Gardens magazine. The site is aimed at budget conscious homeowners that appreciate good design and a well-kept home.
One of my favorites from the site: 10 Tips for Styling Large Living Rooms
Follow The Inspired Room on:
Facebook Twitter Instagram Pinterest
Kelly Elko uses her blog to mix old and new. Her blog displays collections and highlights decorating tips. She also uses flea markets finds, estate sales, and unique items to create here 'eclectic' style.
One of my favorites from the site: Summer Curb Appeal Houses
Follow Eclectically Vintage on:
Facebook Twitter Instagram Pinterest
Designer and blogger, Kristin Jackson created Hunted Interior to inspire readers to "hunt for their own style" and teach them how to accomplish it on any budget. She has had years of experience as an International Hotel Designer and knows the importance of creating a luxurious space & making every dollar count.
One of my favorites from the site: My Favorite Design Books — I love book roundups and if you're interested in interior design and decorating, this is a great booklist.
Follow Hunted Interior on:
Facebook Twitter Instagram Pinterest
Have you found this list helpful? Spread the love and hit the Facebook or Twitter share button. Do you know of an interior design or decorating blog you think should be on this list? Add a comment and let us know! We're always interested in reading and seeing more beautiful and inspirational designs!
You're probably familiar with this scenario: you're busy working, and suddenly you're reminded of that terrible back pain. Sometimes, working hard can truly strain your body.
These pains are awful for your health but reduce productivity severely.
Like any other serious-minded professional, you want to decrease your pain and get back to working hard. So what's your best option? Upgrading your furniture. But how do you find ergonomic furniture that fits your budget?
Ready to relax your neck and back? You can achieve a pain-free work environment by following these tips. Continue reading if you want to know more about ergonomic assessment.
Find an Adjustable Chair
Are you too tall or too short for your office chair? You probably don't notice how often you look down or look up at your computer. That sounds like a lot of neck pain, right? Well, it certainly is.
And the more you strain your neck too high or too low, the worse the pain will get.
Find an adjustable chair. This way, you can adjust your height to your computer. Make sure you're looking at the computer at eye level. This way, your neck is straight while you're looking at your computer.
Ekornes Stressless chairs offer head and neck rests. These will give your head and neck more support.
Use a Table Connected to Your Chair
One of the main reasons why professionals experience work-related pain is how separated everything is on their desk.
With all of that space, your mouse may be on the opposite side of your desk. And your coffee might be on a completely different shelf.
Using a small table helps cut back on reaching for different materials.
For more comfort, use a table attached to your chair. These tables are small, so you're forced to use only necessary objects. And since you're relaxing in a comfortable chair, you won't want to get up.
Comfort Matters
The easiest way to decrease your pain is to buy an ergonomic chair. But buying a comfortable chair doesn't mean it's going to be expensive. But there are features you should look for.
The design of the chair is important. Make sure the chair has lumbar support as well as a head and neck rest.
To improve lower back pain, find a chair that shifts with your weight. The most comfortable chairs are usually made with a combination of leather and fabric materials.
Use Ergonomic Assessment to Buy the Best Office Furniture
Sitting at your desk and staring at your computer contributes to several issues. Experiencing pain while working is not uncommon, but it can be fixed. Fortunately, you don't need to spend lots of money at the doctor's office.
You can decrease your pain by upgrading your furniture. Make sure your chair is comfortable and is adjustable. Find a chair that comes with added features such as a built-in desk.
Use these ergonomic assessment tips to find the best office furniture.
Are you ready to buy pain-relieving furniture for your office? We have all of the best home office chairs to reduce your pain and discomfort!
Scandinavian design has mastered the art of being simple without being austere. For holiday décor, you'll find neutral colors with small touches of holiday cheer in place of traditional Christmas clutter.
Decorating your Scandinavian-themed living room is a matter of selecting the touches you want to emphasize.
Choose a Neutral Holiday Color Palette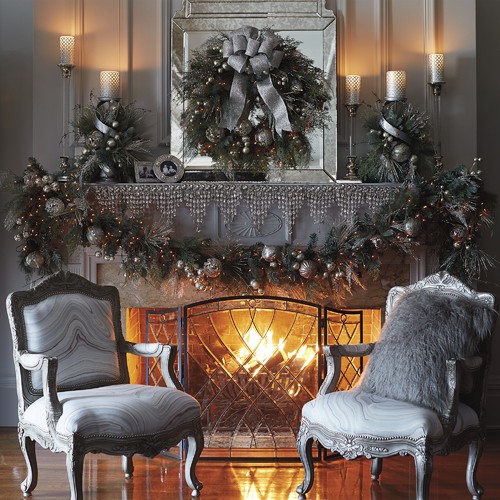 Your staple colors will be white, silver, and some gold. White lights, simple ornaments, and neutral throw pillows will create a tasteful holiday feel. From there, you can add occasional reds, greens, and even blues that evoke the azure tones of snowy landscapes.
Stressless furniture is the perfect backdrop for holiday decoration. With simple lines and neutral colors, it provides the framework of simplicity that you can embellish as needed.
Mix in Splashes of Color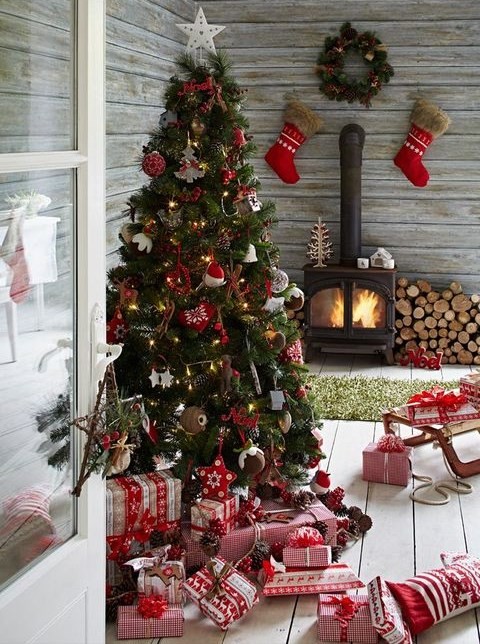 Mixed in with neutrals, splashes of bright colors add interest without overwhelming you with holiday fervor.
A red, wool blanket, green wreaths, brightly colored bulbs for the tree, and candles add holiday cheer while remaining relaxed. Complete the feel with a few throw pillows that have simple, natural designs (snowflakes, trees, rain deer, and the like).
Adding candles to glass surfaces that reflect the light is a beautiful way to enhance the aesthetic of one simple embellishment. Red candles on one of our Jazz glass tables will glow warmly on dark evenings.
Make Good Use of Light
Light plays an important role in Scandinavian design. First and foremost, natural light is a striking element. You don't have to remodel your home if you have small windows. Using lightweight curtains instead of heavy drapes will give the light, airy feel of Nordic design.
Candles and accent lamps are another way to invite good lighting in your home. For Christmas especially, the glow of flickering candles and strings of light creates festive cheer without requiring tons of decorating.
Use Natural Themes for Decoration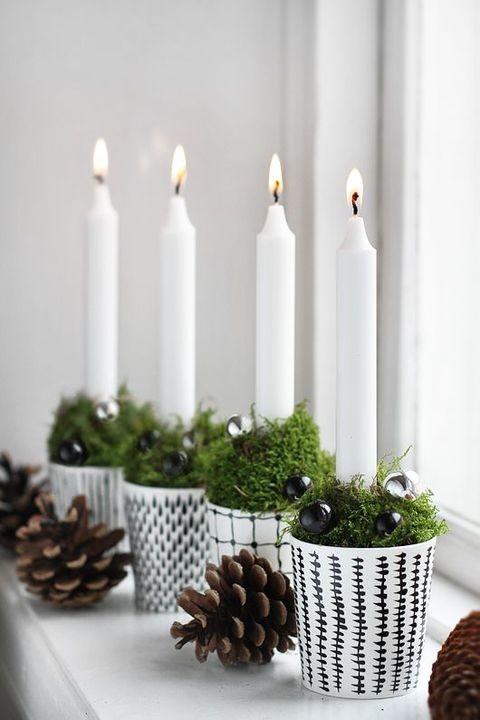 Scandinavian design celebrates nature. Sprinkle your home with greenery and pine cones to create the feel (and smell) of winter. This may be in the form of a few simple, natural wreaths or a centerpiece on the mantel or coffee table.
Natural materials are popular: wool blankets, wicker baskets, wooden figurines. A red wool blanket folded in a wicker basket next to your Stressless Manhattan 3-Seater adds the perfect holiday touch for a cozy evening.
Fur has also been popular in Scandinavian design although faux fur is replacing authentic pieces for ethical and environmental reasons.
The Underlying Theme: Simple and Stylish
As you search out inspiration for Scandinavian decorating, you'll see a theme emerge – simplicity. Whether you're going after traditional or modern Scandinavian designs, the simple lines, neutral colors, and stylish appeal remain the same. Keep holiday decorating simple by adding a few, well-chosen accessories to celebrate the season.
You'll find the beauty and simplicity you're looking for in Stressless furniture. Instead of busy patterns, you'll discover the clean lines and solid neutrals you've come to love in Scandinavian home décor.
If you're interested in a mid-century design and beautiful minimalistic, Scandinavian styled furniture for your living room, come visit our showroom. Our ergonomically designed furniture will create a welcoming center in your home.
If you're at all interested in architecture or design, you've likely heard the expression "form follows function." First coined by American architect Louis Sullivan, this axiom is one of the key principles in minimalist design, including Nordic design.
Let's take a closer look at this Scandinavian aesthetic and how you can incorporate its principles into your own home to maximum effect.
Four Foundations of Nordic Design
Simple Silhouettes
Nordic design relies heavily on simple, clean lines for its minimalist appeal.
Similar to mid-century modern design, Nordic furniture and furnishings are often geometric, and may boast gentle curves (think an oval coffee table or the gentle swoop of the iconic Arne Jacobsen chair).
If you've ever stepped into an Ikea, you understand that simplicity is key in Nordic interior design. Pieces don't have to be boxy, but they should never have intricate carvings, curlicues, or unnecessary frills.
Neutral Colors
Where Nordic parts ways from mid-century modern is in its use of color. Scandinavian design uses a lot of light-colored wood, metal, and white or off-white.
Neutral hues are the way to go when using Nordic design in a space, but that doesn't mean your room has to be all white. Instead, look to earth tones like creamy beige, charcoal gray, light tans, pale greens and blue.
These neutrals can be accented by brighter pops of color, of course. Bright grass green, the blue of the Swedish flag, a brilliant yellow or orange that brings to mind the flowers of midsummer — you get the idea. Just make sure not to overload the eye with multiple colors or clashing ones.
Negative Space
Since Nordic design is all about simplicity, it should come as no surprise that bright and airy spaces should be devoid of clutter. Knick knacks and tchotchkes take the attention off the furniture and the color palette, so relegate them to the attic.
It's not necessary to clear the room of every item, but be sure that the ones you choose are in keeping with the rest of the furnishings. Consider elements like houseplants, floating shelves, a beautiful wooden bowl, a geometric print.
Clean but Cozy
Are you familiar with the Danish term hygge? It's pronounced "hoo-gah," and while it's difficult to translate exactly, it refers to a sense of comfort and coziness.
Hygge is the feeling of being snug and safe inside a warm home, surrounded by friends and family, perhaps enjoying a hot beverage or a big pot of chili or stew — while a winter storm rages outside.
You might think that this concept would be hard to achieve in a minimalist environment, but Nordic design isn't strictly minimalist.
Yes, the clean lines, use of neutrals, and incorporation of negative space follow minimalist principles, but the Scandinavians invite comfort and warmth into the home, too.
How? Largely with textiles like velvety blankets, soft and inviting pillows, and plush throw rugs. Plants and flowers help bring the warmth of nature into an otherwise stark space. And don't forget the coasters for those mugs of hot chocolate!
For More Inspiration
Check out Ekornes Stressless Furniture, which combines the beautiful lines of Nordic design with the comfort you expect — and deserve — from contemporary chairs, recliners, and sofas.
The Scandinavian design has remained a prominent icon in the interior design universe.
These Nordic styles focus on neutral color schemes, paired with pops of calm colors and natural elements that bring the outdoors in.
Perhaps the most important aspect of the Scandinavian interior design is the concept of Hygge.
The word Hygge isn't one that translates perfectly into English, but it references the feeling of coziness, simplicity, and warmth in a home.
Imagine a cool, rainy day spent cuddled next to a fireplace with fuzzy socks and a warm blanket. This is the feeling that is meant to be captured in the Nordic style, one of complete sufficiency, contentment, and warmth.
Learn how to infuse your home with five of the most recent trends in this traditional and minimalist style.
1. Pops of Blue
In the past, Scandinavian interior design consisted primarily of white, black, and wood. But, one new color has come to bring life into neutral spaces.
The perfect compliment for the pale, cool colors, blue promotes relaxation and breaks up the monotony of neutrals.
Consider incorporating a blue accent such as a rug, painting, or blanket to bring this deeply natural color into your peaceful space.
2. Gray Walls
This style usually emphasizes the dichotomy of black and white in terms of wall hue. However, gray walls are becoming increasingly popular in 2017 as an alternative.
Gray is perfect to adhere to the overall theme while adding a level of unique beauty between the two predominant colors.
3. Worn Leather
There are few things in the world that blend as naturally and as beautifully as wood and leather.
These two elements of nature at a rustic charm to the Scandinavian style that would otherwise be overshadowed by the modern design.
The key is to find worn leather furniture that can provide the coziness that is the foundation of this interior design style, without sacrificing true quality.
4. Big Paper Lanterns
These large, white lanterns provide a modern and elegant alternative to regular chandeliers.
The placement of three to four of these in key spaces such as above a kitchen table is an ideal statement piece.
The lanterns come in different styles that can be customized to your preferences and placement.
5. Cacti
Last year, succulents completely dominated the indoor plant world. These resilient plants are not only hardy but also extremely unique.
However, their close cousins in the cacti family have slowly been gaining traction. Perhaps it's the dangerous, yet innocent nature of cacti or perhaps it's the pure beauty of these green life forms.
Either way, add small cacti to your space to bring the outdoors in while improving the aesthetic of the room.
Scandinavian Interior Design Principles
The key elements of all of these trends are the Nordic love of pale colors, nature, coziness, functionality, and contentment.
It can be easy to incorporate even a few of these design techniques to promote happiness and well-being in your home.
Simply invest in key elements that will bring make you feel "just right" rather than endless decorations that clutter and complicate your space. Keep it simple is the key piece of advice.
Check out European Leather Gallery's high-quality leather furnishings to add to your new cozy little Scandinavian haven.
At European Leather Gallery, we aim to bring you the highest quality furniture made in the USA and from around the world. We're pleased to now offer Elite Modern furniture. Learn more about the quality and design this modern furniture line offers.
Elite Modern Style
Elite Modern furniture styles are driven by their passion for original design. Since 1988, they have produced innovative and exceptional modern furnishings in the USA. Their reputation for creative designs and superior comfort are only trumped by the outstanding value of their products.
Superior Construction and Value
A sophisticated combination of materials is used to create Elite Modern furniture, including brushed stainless steel, powder coated metals, solid wood, and veneers available in several finish options. For a custom look, they offer numerous fabrics, leathers, and Ultrasuede selections to bring uniqueness to their diverse assortment of products.
Elite Modern controls every phase of their furniture production from the product design and development to delivery of their products. This ensures you receive their superior and reliable quality every time.
Elite Modern Products at a Glance
At European Leather Gallery, we feature Elite Modern's top bar or counter stool chairs and side tables. Elite Modern also offers retro and modern desks, chairs, beds, side tables, dressers, dining room tables, and more. Each item can be customized based on the appropriate fabric, leather, metal, glass, or wood options.
Meet the Design Team
Carl Muller – Independent Furniture Designer
Carl Muller is an independent furniture designer in Seal Beach, California and has worked with Elite for nearly 20 years. His talent has brought over 200 designs to market. Most are currently in production and continue to be top sellers.
Muller's goal is to make a fresh statement with every design while maximizing comfort, elegance, and economy. His influences come from worldwide current and historical trends.
Rick Lee – Product & Interior Designer
Based in San Francisco, Rick Lee finds inspiration from a variety of things around him – from a sleek pocket knife to a gnarled tree branch. Lee combines rational thinking with radical influences to create striking designs ranging from minimal to whimsical.
Rick was born in Korea of Chinese descent and came to the U.S. as a teenager. After earning his degree in industrial design, he started his career creating pieces for notable furniture manufacturers in Chicago. After moving to Milan, Italy in his mid-20s, his art for distinctive artistic style became what it is today. By combining European principles and experiences, he developed a unique style that's both vibrant and charismatic.
Elite Modern – Now Available at European Leather Gallery
We're proud to be offering the exceptional Elite Modern pieces at European Leather Gallery. Browse online or stop by our showroom to learn more about adding exceptional Elite designs to your home or office.
Hygge, pronounced "hoo-ga", is a Danish design concept from the 18th century. It can't be easily translated into one word but encompasses feelings of coziness, contentment, and well-being through simple things. If you've ever lit candles and curled up with a cup of cocoa and a fuzzy blanket on a rainy Sunday, you've experienced hygge.
Hygge is an important part of Danish design and lifestyle. "What freedom is to Americans…hygge is to Danes," says Meik Wiking, the CEO of Happiness Research Institute in Copenhagen and author of The Little Book of Hygge. Hygge traverses winter and summer by bringing feelings of peace and contentment when embracing the cold season in Scandinavia.
Denmark's obsession with all things cozy is one of the reasons why they top the world's list of happiest countries. Here's how you too can achieve hygge in your home.
Stock Up on Candles
Denmark and other Scandinavian countries are rumored to be the largest consumers of candles in the world per capita. To escape the winter's chill, flickering scented or unscented candles are one of the most fundamental principles of hygge. To achieve peace and comfort in your home, light a candle or two and enjoy the soft light and your favorite scents.
Fall in Love with Texture
When you think of cozy, your mind may instantly go to soft textures which add dimension to any interior. Faux fur throws, knit cushions, and fluffy rugs add textured accessories for layering different textiles and surfaces. Add a roaring fire, knit socks, and soft candlelight and your room couldn't get more hygge.
Less Is Much More
Hygge finds peace and fulfillment in the simple things. That means banishing clutter for a mess-free home. To embrace hygge, invest in clever storage solutions to hide visual clutter from view. The Danes believe a clean, serene space makes it easier to enjoy more continuous moments of hygge.
Display Your Memories
Hygge encourages creating an environment of happiness. Freely display your favorite paintings, family photos, and travel adventures. Surround yourself with the simple things that make you happy.
Embrace a Spa-Like Style
Start your spa-like style in the bathroom with a soaking tub, candles, soft bath robes, good lighting, and clever storage. Instead of rushing your morning routine, create space for rest and rejuvenation by making your bathroom feel like a daily trip to the spa.
Enjoy Soft Tunes
What could make candles, a cozy blanket, and a warm cup of tea any better? Relaxing music. Music is an important element of hygge to lift the mood and relax the mind and body. Invest in sleek Bluetooth speaker and play soft instrumental music or your favorite tunes in the background while you get ready in the morning or relax in the evening.
Enjoy the Sentimentality of Things Past
The Danes don't like to waste, so they recycle and reuse old objects such as antiques and furniture in creative ways. With hygge, nothing needs to be perfect. It's more about the sentimentality of a family antique or pieces of the past with history and memories.
At European Leather Gallery, we carry high-quality low back loveseats and sofas and recliners with sleek designs to achieve ultimate relaxation. Is it time to freshen up your space? View our selections online or visit our showroom to test our Scandinavian-inspired furniture and styles.